August 22, 2021
Families have a new way to travel between Staten Island and Manhattan!! Launching Monday, August 23, the St. George NYC Ferry route connects riders from the west side of Manhattan, and Battery Park City to Staten Island, via the Hudson River.  The new route is designed to provide quicker, more convenient access to Manhattan's West Side than is currently available via the Staten Island Ferry or MTA subway system.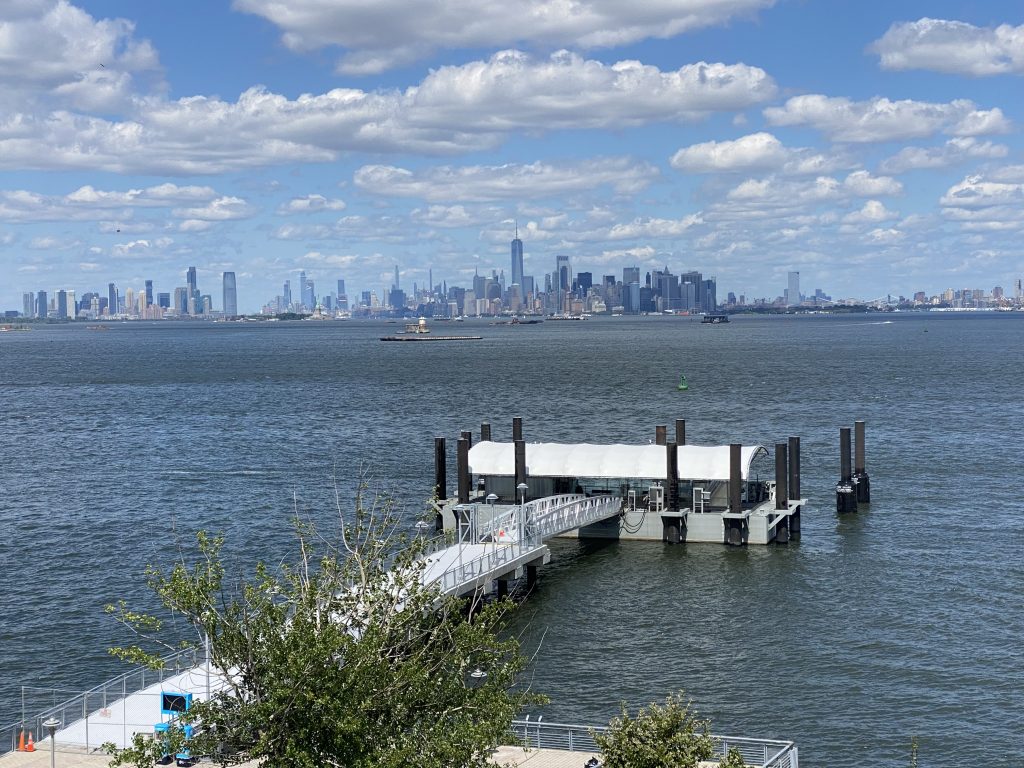 (Photo: Beth Beckman)
The St. George Route will not only offer a new way to commute, it also opens new amazing options for adventure – through connecting cultural icons, activities and recreational fun to New Yorkers and city explorers alike. With this latest route, NYC Ferry now officially serves all five boroughs – and it gives you another whole borough to explore! 
Read on as we discover the best family adventures along the exciting ferry route, St. George.
Tickets Please! 
Each ferry ride is a flat rate of $2.75, the same price as the MTA's base price for the bus and subway! Bicycles are $1 additional. Tickets are available on the easy-to-use ferry app or from the machines at each landing. Up to 2 children under the height of 44 inches can ride for free when accompanied by an adult, making it a great way to travel for families!
All Aboard!
When onboard: commuters can ride on state-of-the-art vessels with conveniences including ample outlets for charging devices, Wi-Fi and concessions. Strollers are allowed and are a breeze – as you can simply roll up the ramp. Bonus – the rides also offer an epic view of Manhattan and the Statue of Liberty. Fun fact -All of the ferries were named by NYC school children! As you're boarding look to the side of the ferry to see its name. The fun names include Lunchbox and Friendship Express.
New Stops to Discover
Not just the new stop in Staten Island, the St. George route includes two stops in Manhattan: Battery Park City and Midtown West.  The entire route from start to finish is approximately 35 minutes. This is the first time the NYC Ferry will be utilizing the Hudson River, and the first time it's docking on the west side of Manhattan!
Addresses of the New Stops:
?Hudson Yards (W. 39th Street at Pier 79, Manhattan)
?Battery Park City (Hudson River at Vesey Street, Manhattan)
?St. George Landing (90 Bay Street Landing, Staten Island)

Disembark on Adventure!
You've taken the new ferry route and landed at the terminal. Where to next? With 3 new ferry stops, there's so much to explore. A look at some of the best family activities at each landing! 
Hudson Yards (W. 39th Street at Pier 79)
Where to next?
The Edge
Looking for a big view of the big apple? Visit the Edge, the highest outdoor sky deck in the Western Hemisphere! A one of a kind design – this observation deck is suspended in mid-air, which gives the feeling of floating in the sky. Have a little adrenaline seeker? Don't miss the triangular glass floor at the center of it all, the space's indisputable showstopper.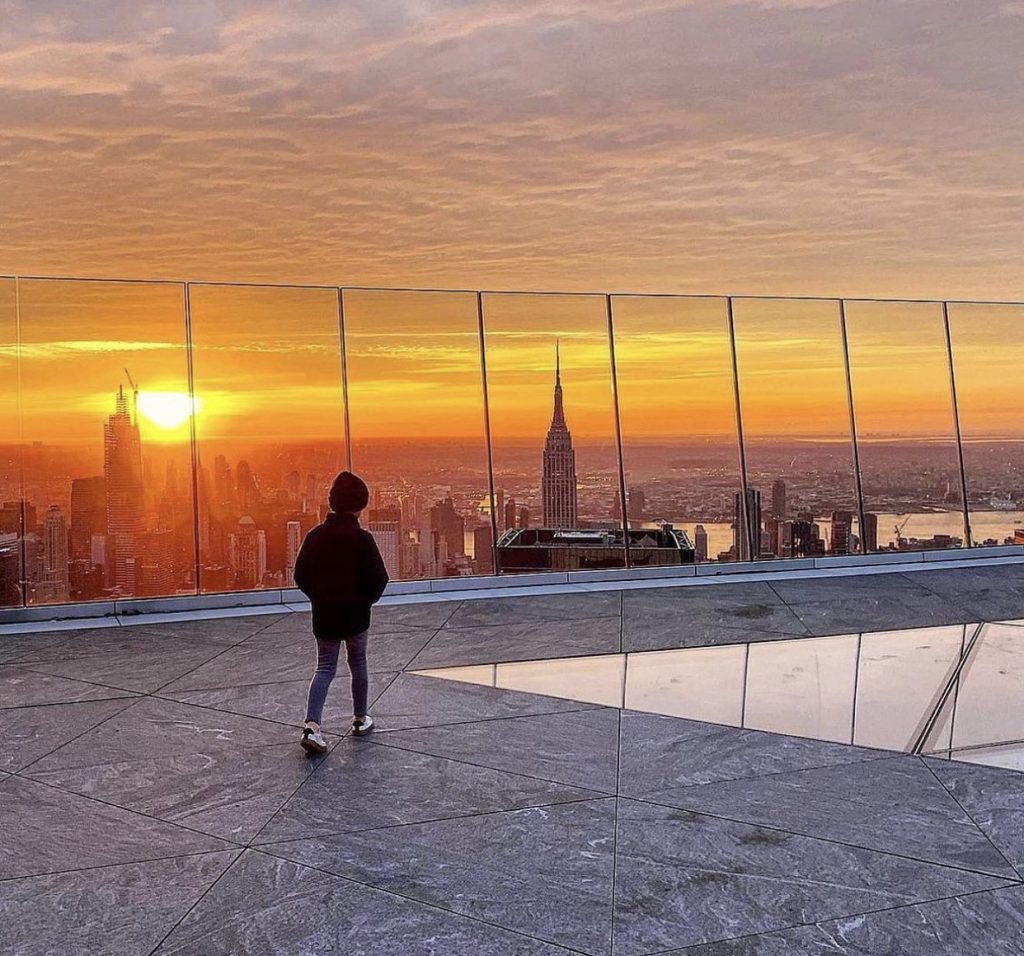 (Photo: Beth Beckman)
Address: Hudson Yards. 33rd Street at 11th Avenue. The entrance is located on the 4th level.
CAMP Stores (in Hudson Yards!)
Who's ready to play? Built to engage and inspire, CAMP's Hudson Yards location includes an interactive space for play and shopping, and a theatre for kids activities and programming. Bonus: CAMP Hudson Yards has is a glitter dance room and two separate slides – one with truly EPIC views of The Vessel and the entire Hudson Yards complex. After your CAMP Store visit, stop for some sweets – Hudson Yards's location of Dylan's Candy Bar is just steps away!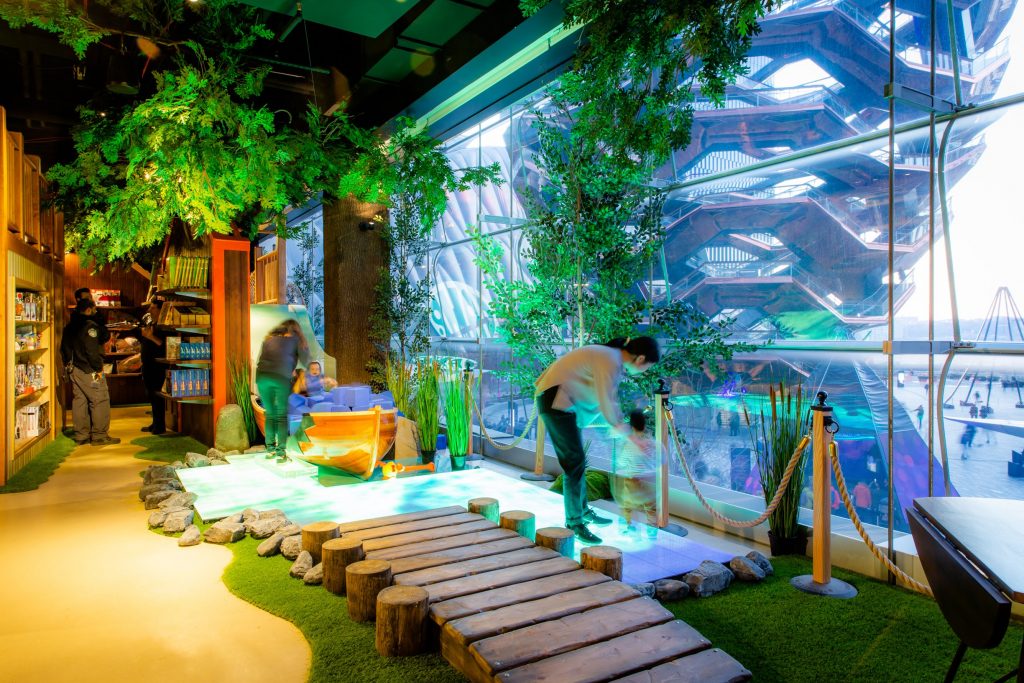 (Photo: CAMP)
Address: Hudson Yards. 33rd Street at 11th Avenue. CAMP is located on the 2nd level.
The Intrepid
Take flight at the Intrepid! The floating museum is located on a massive aircraft carrier docked at the Hudson River. It is the city's premier showcase for sea, air and space innovation. A fantastic spot to bring the entire family, the Intrepid has activities, exhibits and programs that cater to all ages. Don't miss the rooftop with the aircraft (and a gorgeous view of Manhattan!).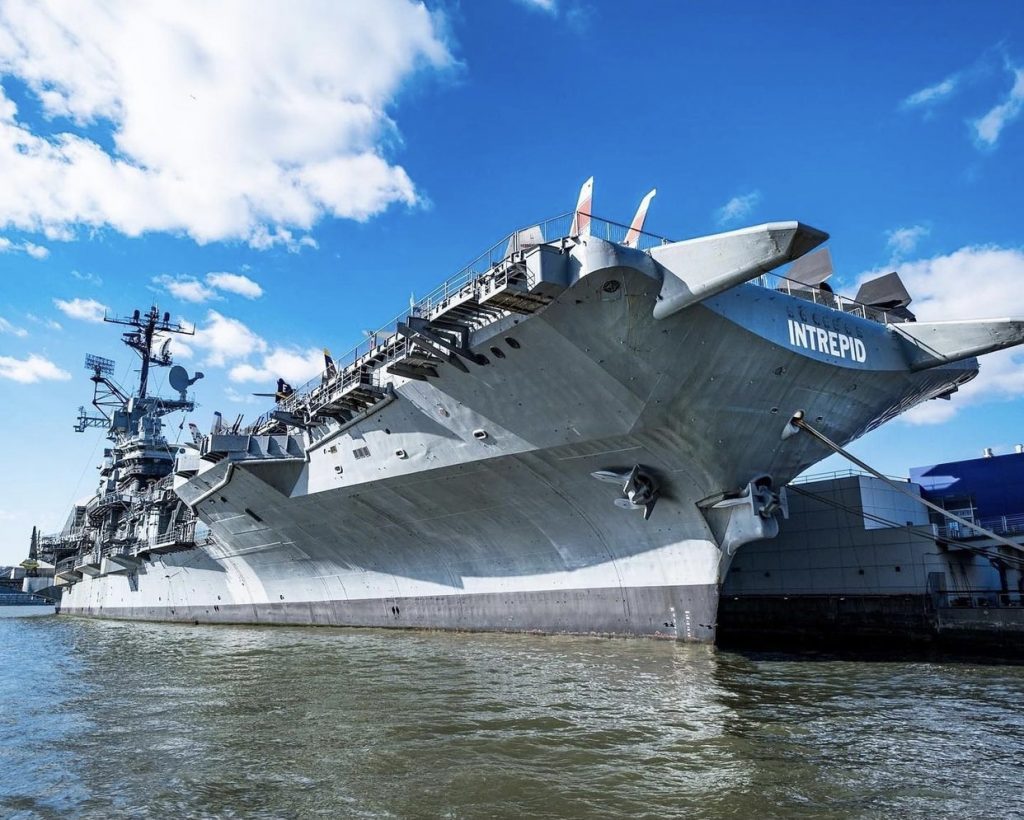 (Photo: Intrepid)
Address: Pier 86. Hudson River at W 46th Street.
Silver Towers Playground
A head (and leg?) above the rest of the playgrounds! Slide over to this fun playground structure designed by artist Todd Otterness. It features a sculpture of a seated man that has slides for legs, seats for hands and arms that extend to the ground for climbing. Part of the Silver Towers apartment complex but open to the public.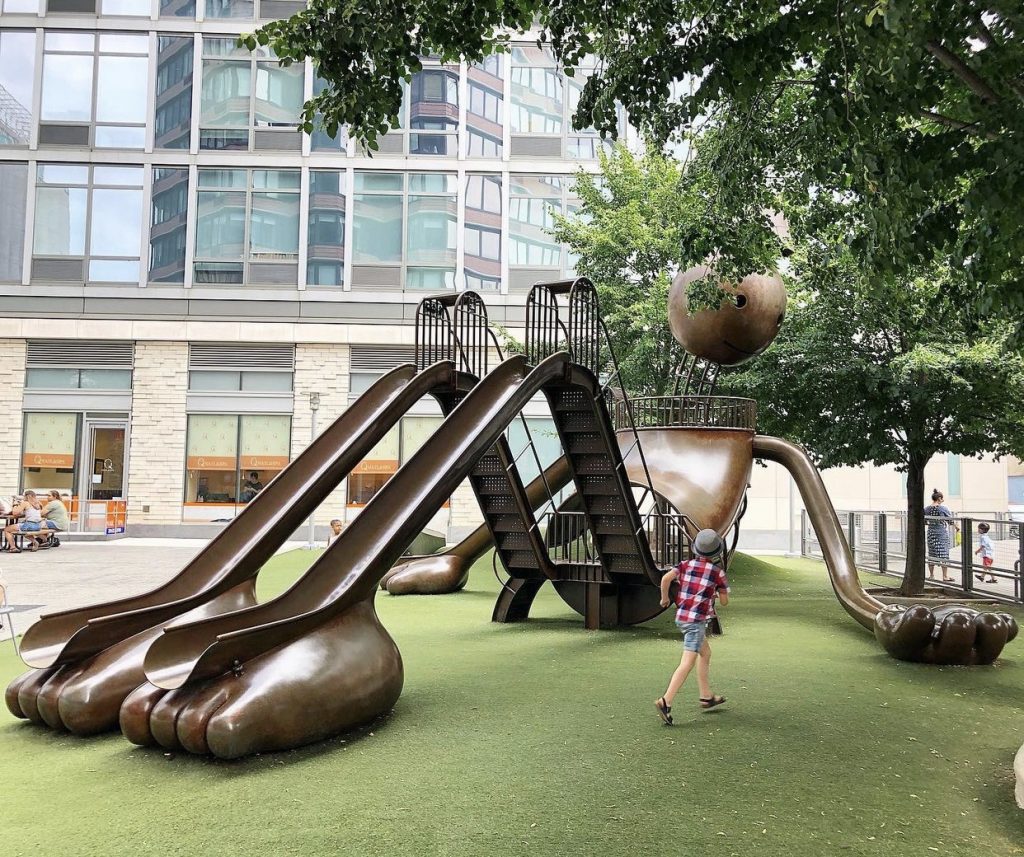 (Photo: Beth Beckman)
Address: W. 41st Street between 11th and 12th Avenue.
The Highline
Skies the limit! A converted rail line – it doesn't get better than this park in the sky! Explore the nearly 1.5 miles of public park trail built on a historic freight rail line elevated above the streets on Manhattan's West Side. Go for a family stroll and take in the views of the bustling Manhattan streets below. Bonus: there are almost always new art installations to discover, and local snack vendors along the way.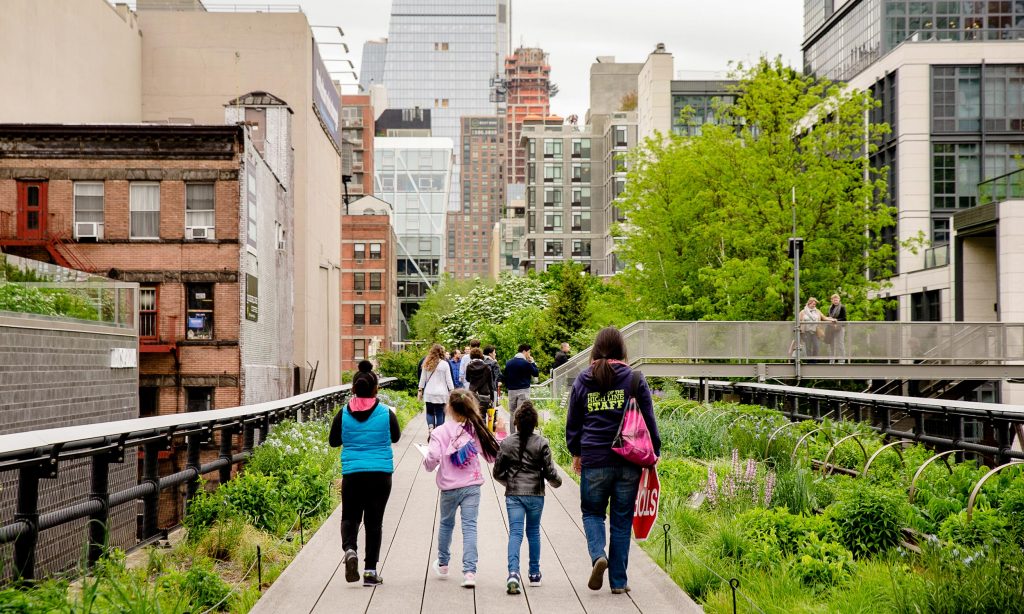 (Photo: Anita Ng)
Address: Elevated park runs between Gansevoort Street to West 34th Street, between 10th and 12th Avenues.
Battery Park City (at Vesey Street)
Where to Next?
The Oculus
See the large white building with steel, wing-shaped tips (that kind of looks like whale ribs)? That's the Oculus, an artistic landmark. transportation hub and shopping mall built alongside the One World Trade Center. The architecture is stunning, and it's the perfect place to dip into and do some shopping.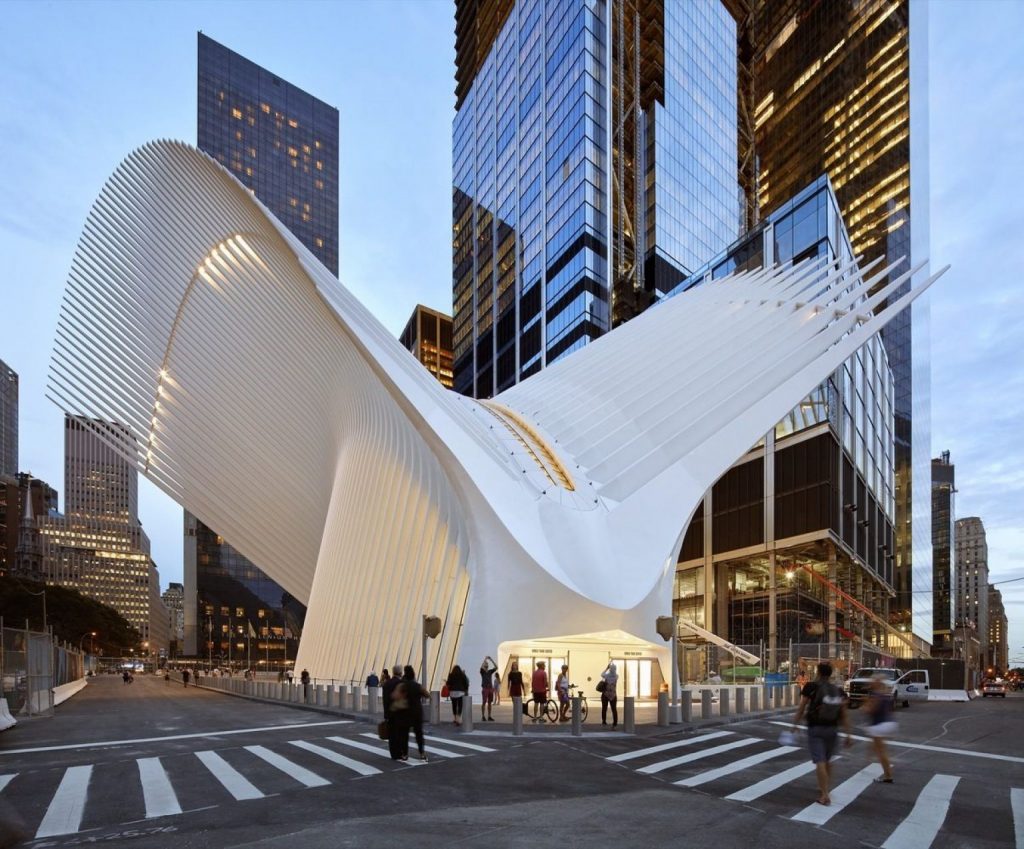 (Photo: Hufton + Crow)
Address: 33-69 Vesey Street.
Brookfield Place
Brookfield Place is a destination for shopping, dining and cultural events in downtown Manhattan. Visit the waterfront marina, and then step inside the building to see their famous (and sunny!) palm tree atrium, which usually has a fun art installation.  Hungry? Grab a bite to eat at one of the waterfront restaurants, or head inside to Hudson Eats, an upscale dining terrace featuring fast-casual concepts from 14 eateries.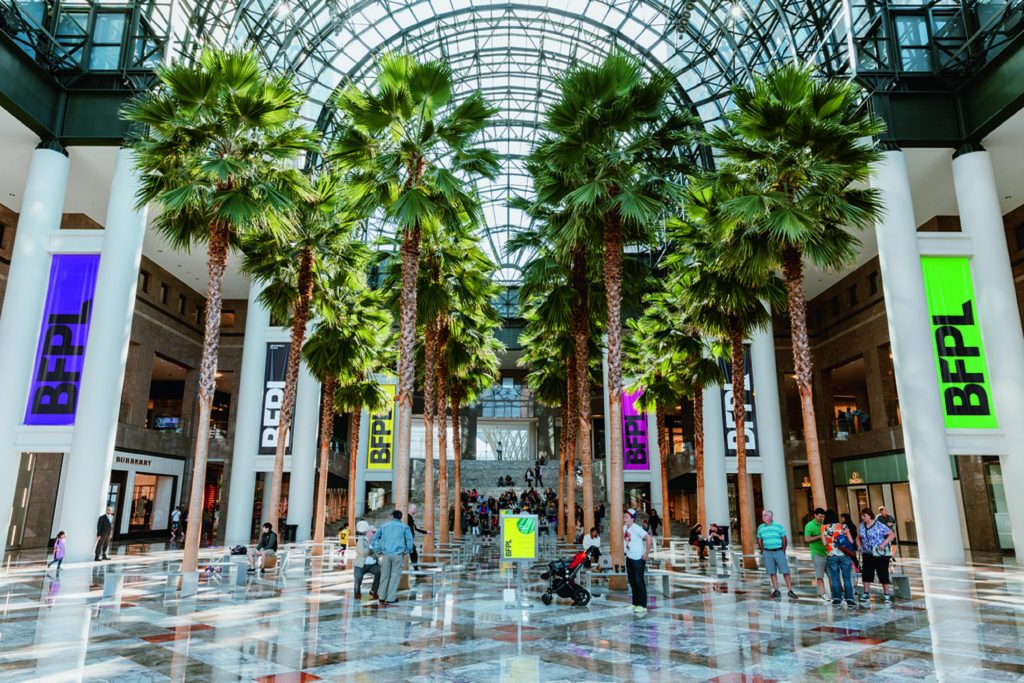 (Photo: Brookfield Place)
Address: 230 Vessey Street. 
Pier 25 Playground and Mini Golf
Hole in Fun! The 13,000 square foot, 18-hole professional-grade miniature golf course features a waterfall, stream, pond, cave, footbridges and sandy traps – and the perfect place to t-off the family. After your round, stay and play at the epic Pier 25 playground, just steps away. 
(Photo: Pier 25)
Address: Pier 25 at the Hudson River.
Rockefeller Park + Playground
Play away the day on jungle gyms, sandpits, slides and spraygrounds at this popular playground that looks over the Hudson River. Be sure to take a spin on the pedal-powered merry-go-round, a family favorite. Across from the playground is a grass area, perfect for picnics!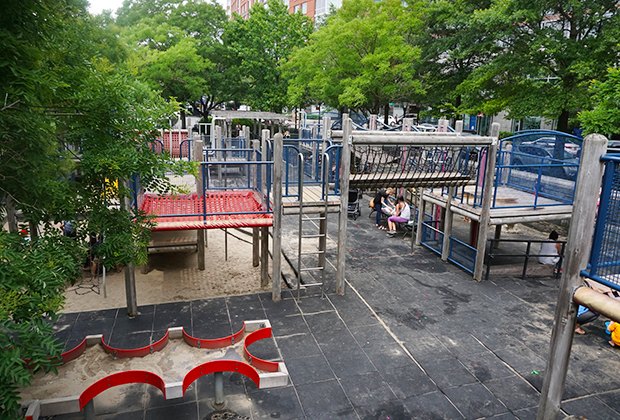 (Photo: BPC Parks)
Address: River Terrace at Murray Street.
Irish Hunger Memorial
Enter a lush Irish countryside at the impressive The Irish Hunger Memorial, a monument to the people who died in the 1800s famine in Ireland. The memorial includes a gorgeous elevated garden overlooking the Hudson River, an authentic roofless stone cottage that was brought over straight from Ireland, and this light tunnel, which is a fun photo op.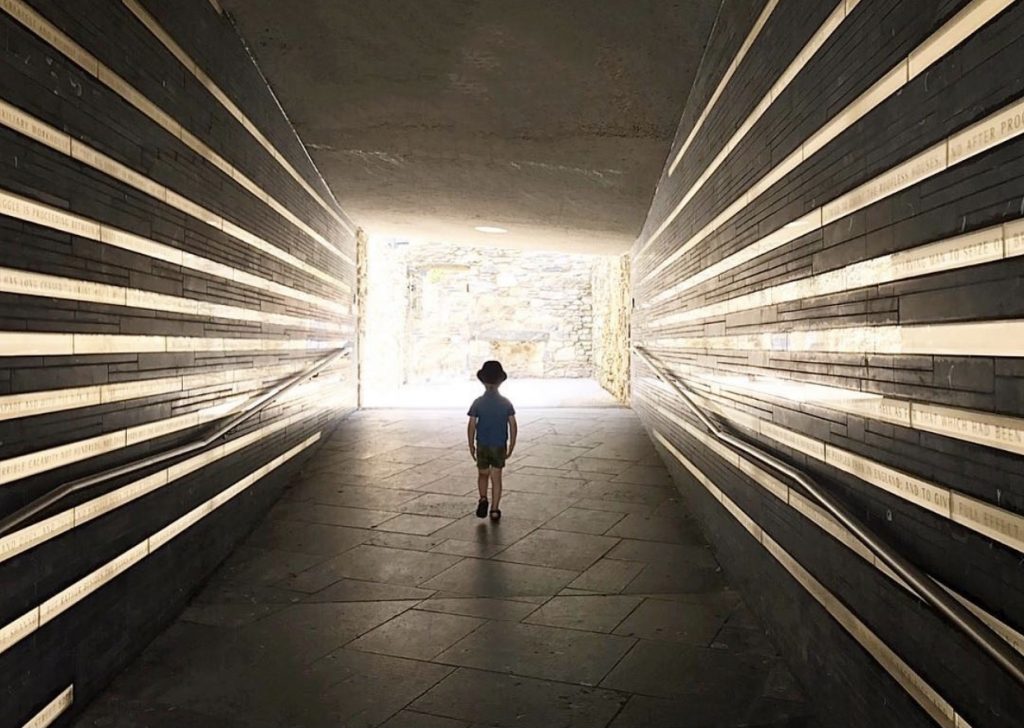 (Photo: Beth Beckman)
Address: Vesey Street at North End Avenue.
St. George Landing 
Where to Next?
Empire Outlets
Shop 'til you drop at Empire Outlets – New York City's ONLY outlet shopping destination. 
With its picture-perfect views of lower Manhattan, Empire Outlets offers a lushly landscaped plaza, water fountains, and access to some of the best shopping deals in the city. Don't miss the fun flower installations or tulip chairs! Just steps away from the ferry.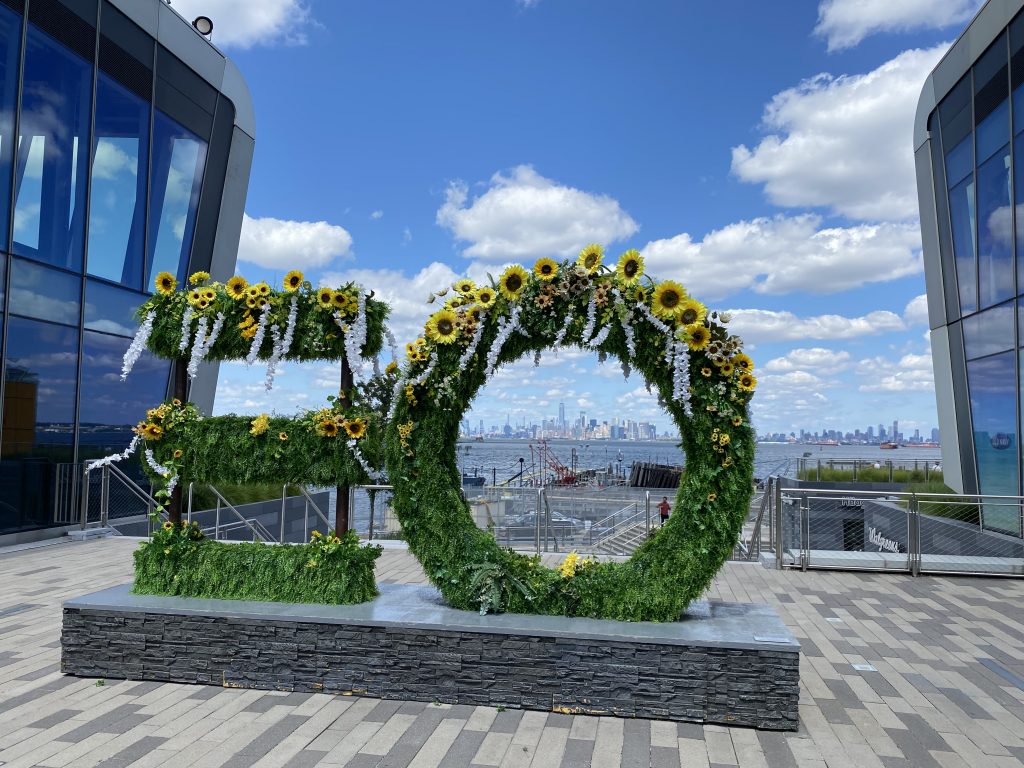 (Photo: Beth Beckman)
Address: 55 Richmond Terrace, Staten Island.
Snug Harbor Cultural Center 
Set within a stunning 83-acre park-like setting, Snug Harbor has a mix of museums, historic buildings and acres of landscaped gardens. Take your little prince and princesses to the Connie Gretz Secret Garden, which has a brick castle and shrubbery maze. A few steps away is the Chinese Scholar's Garden. Wander through the bamboo-lined paths, and stay to relax with the waterfalls and koi pond.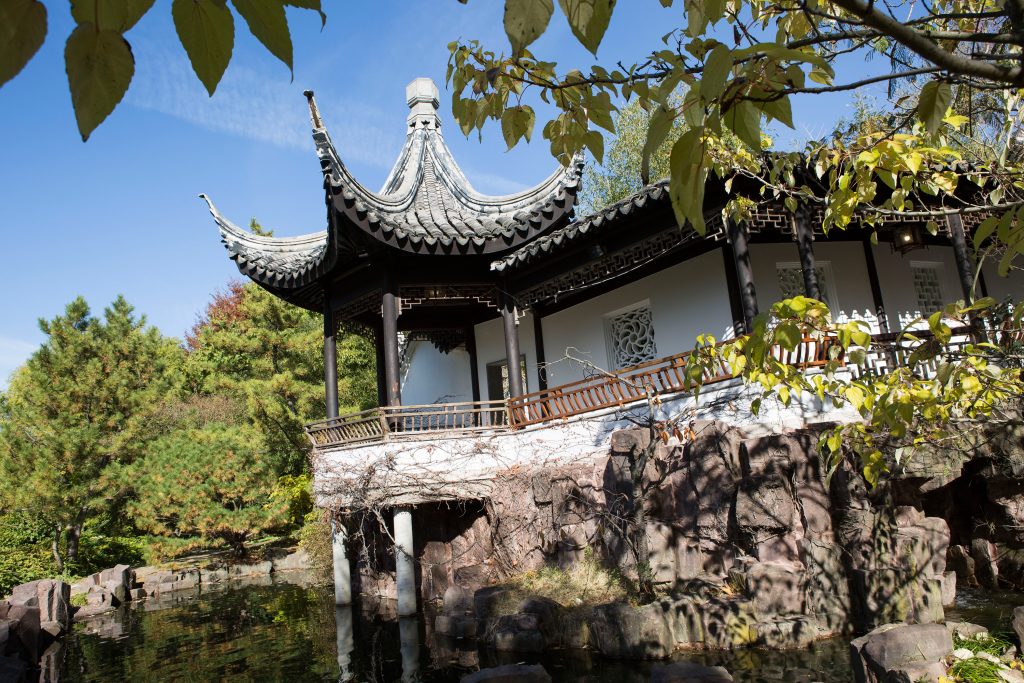 (Photo: Tagger Yancy IV)
Address: 1000 Richmond Terrace, Staten Island.
Staten Island Zoo
Get wild at the Staten Island Zoo! Nicknamed New York's "Biggest Little Zoo", it showcases more than 1,200 animals nestled in an 8-acre park. Discover animals from six of the world's seven continents, and then take a spin on the Conservation Carousel, which features endangered creatures (including a Komodo dragon, a koala, and rhinoceros!). Be sure to say hi to the zoo's most famous resident – Staten Island Chuck, weather-predicting groundhog!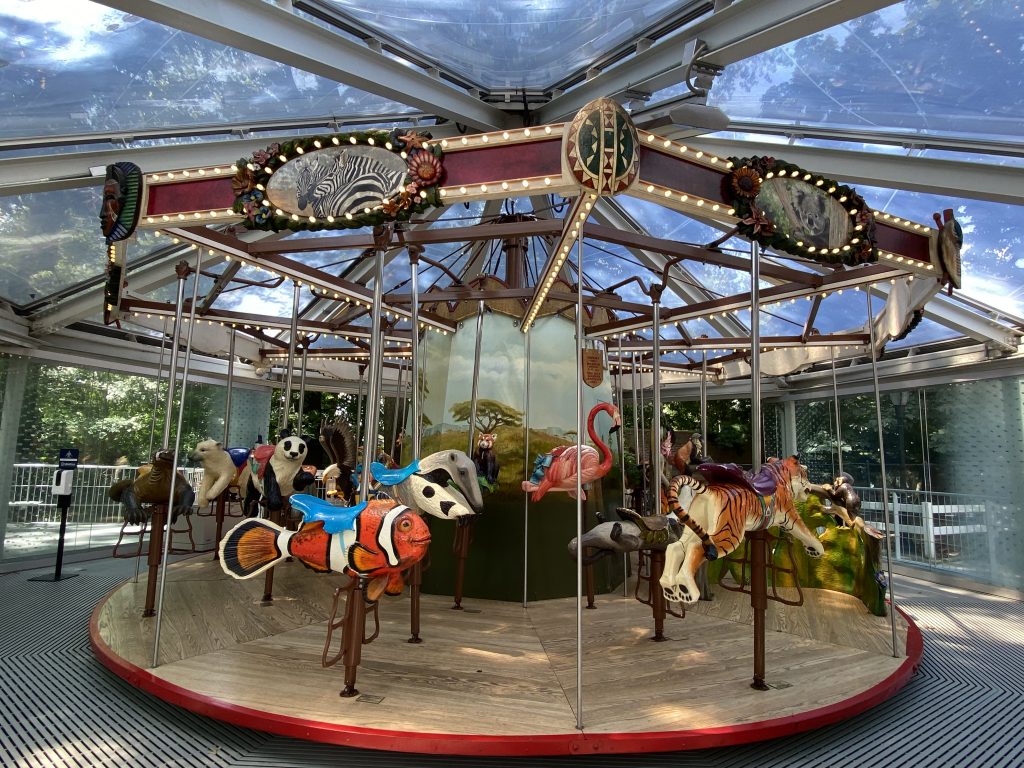 (Photo: Beth Beckman)
Address: 614 Broadway, Staten Island.
Staten Island Children's Museum
The Staten Island Children's Museum Children is chock-full of hands-on exhibits. Children can explore different climates, examine bugs, learn about construction, build with blocks, hop on board a fire truck and play games throughout the interactive exhibits. The grassy meadow is the perfect spot to play and picnic.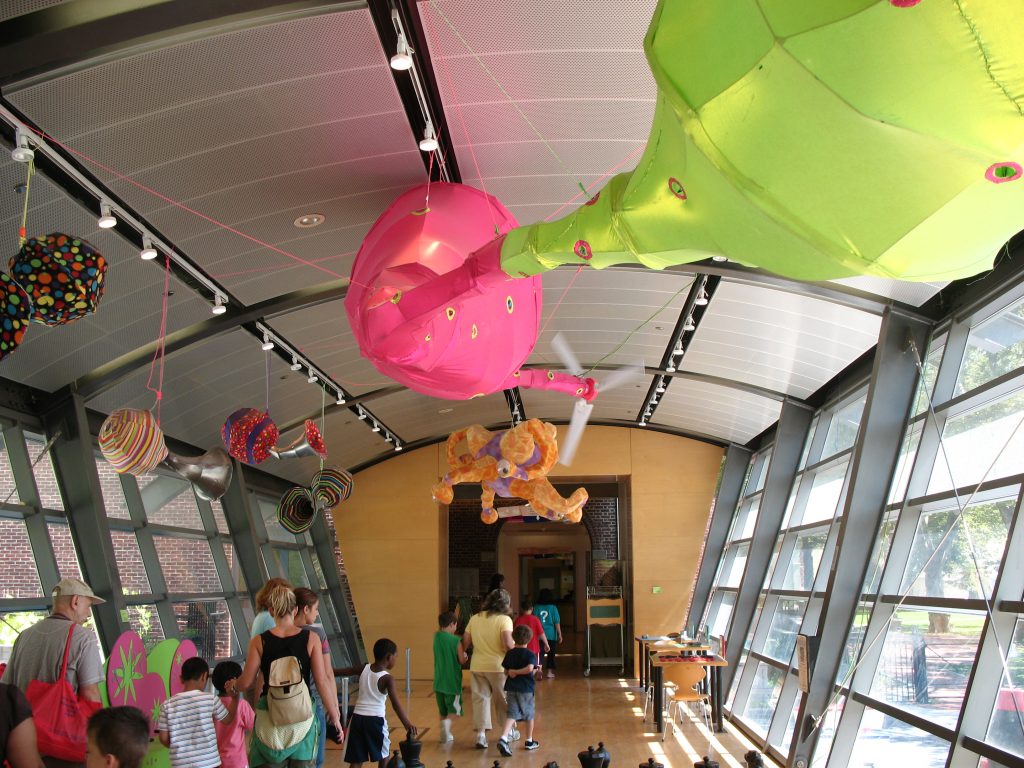 (Photo: SI Children's Museum)
Address: 1000 Richmond Terrace, Staten Island.
Historic Richmond Town
Watch history come to life! See historic trades and skills practiced in shops; learn about Staten Island history in the museum; see furnished interiors animated by costumed interpreters; and see the native gardens flourish among Historic Richmond Town's 100 acres. Mark those calendars for the upcoming county fair and very soon, pumpkin picking! Check the website for more.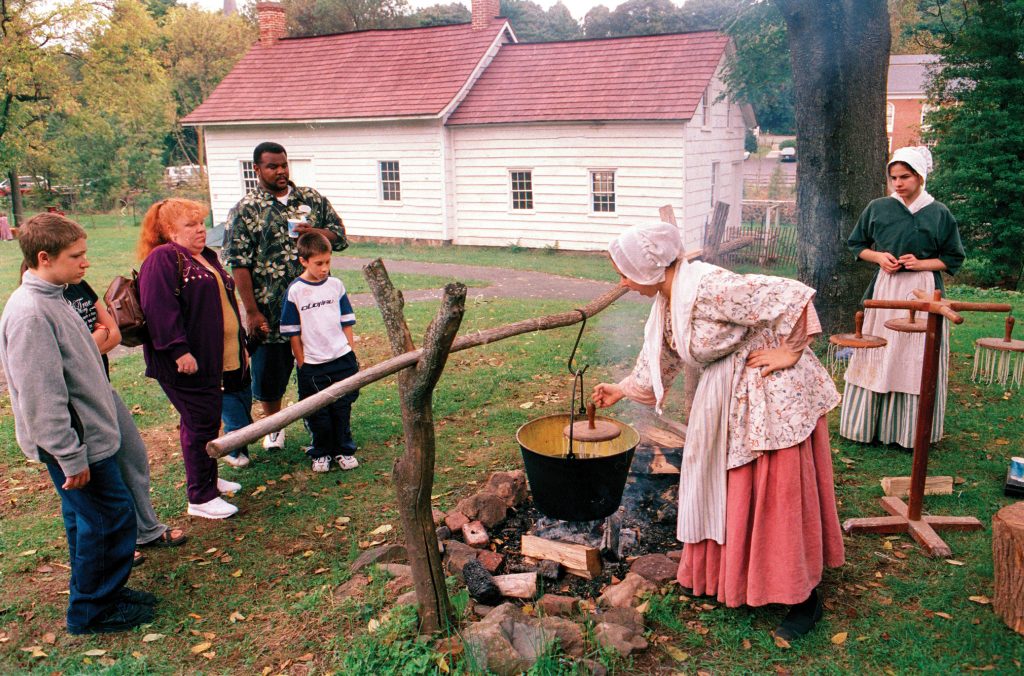 (Photo: I Love NY)
Address: 441 Clarke Avenue, Staten Island.
******************
Beth Beckman is the founder of Little Kid Big City platforms and author of the Little Kid, Big City! Series, a collection of interactive travel guides designed to help children discover big cities across the globe.  Pick up a copy of Little Kid, Big City!: NewYork , the first book in her series, to continue your adventure. For more of Beth's travel tips follow her @littlekidbigcity_ and @littlekidbigcity_newyork.