October 16, 2017
by Mitch Waxman
Mitch Waxman started the Newtown Pentacle in 2009 to document his adventures along the Newtown Creek (and in the greater harbor and city beyond). He served the City of New York as a Parade Marshall, was named the Newtown Creek Alliance's group historian, is a Steering Committee member of the Working Harbor Committee and for the EPA's Newtown Creek Community Advisory Group, offers regular walking and boat tours of the Newtown Creek Watershed to academic groups and the general public, and he once found a missing piece of the Queensboro Bridge. He resides in Astoria, Queens, with his wife Catherine and their little dog.
Astoria Landing is found at Astoria Point, alongside the New York City Housing Authority's Astoria Houses campus. This is a 2-building, 1,100-apartment complex built in 1948 which is home to some 3,189 New Yorkers.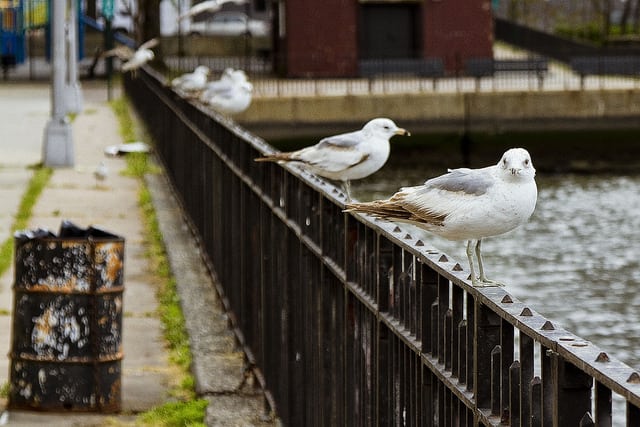 There is an amazing waterfront promenade at the Astoria Houses, which offers spectacular panoramic views of the East River, Roosevelt Island, and of course the Manhattan skyline. You'll probably get to meet a lot of different birds along the way, who like to take a break from the day's fishing along the promenade's fences.
Astoria Landing is in a section of the East River waterbody called Hallets Cove, which is where the original European colonists in Astoria settled.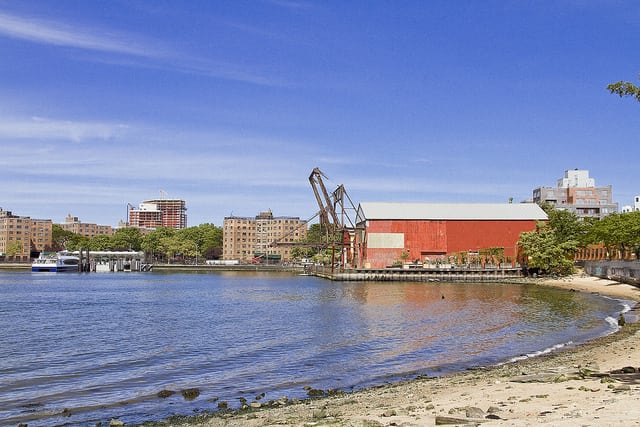 The area now known as Astoria was originally called Hallett's Cove, after its first landowner William Hallett, who settled there in 1652 with his wife, Elizabeth Fones. Beginning in the early 19th century, affluent New Yorkers constructed large residences around 12th and 14th Streets, an area that later became known as Astoria Village (now Old Astoria). Hallett's Cove, incorporated on April 12, 1839, and previously founded by fur merchant Stephen A. Halsey, was a noted recreational destination and resort for Manhattan's wealthy.
Astoria Landing is centrally located to a series of art installations, museums, and NYC Parks. Just across Vernon Avenue, for instance, is the Welling Court mural project.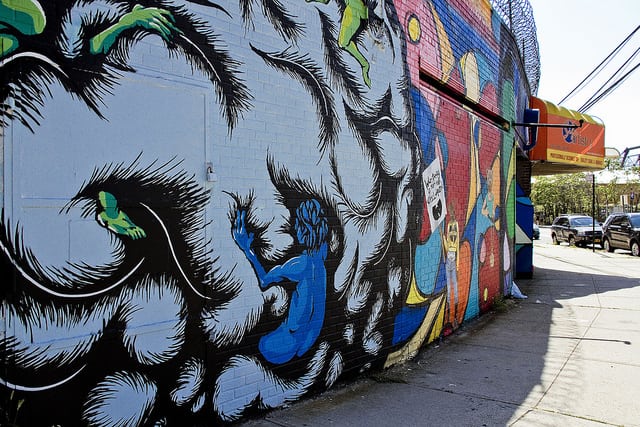 After members of the Welling Court community met at Ad Hoc Art's Bushwick gallery, they invited Ad Hoc Art to envision how to beautify their neighborhood. Thus, having the community support and a timely visit by Poland's wall-crushing M-City, the first mural was painted in the freezing temperatures of December 2009. Ad Hoc Art used the rest of the winter to plan the launch of the first multi-block mural project that occurred in May 2010 and comprised over 40 murals. Continually melding a spectacular crew of legendary artists together with a diverse mix of fresh talent, the annual project now hosts over 150 murals by artists from around the corner and around the world, providing new arrays of visual experiences that change how people interact with their environment.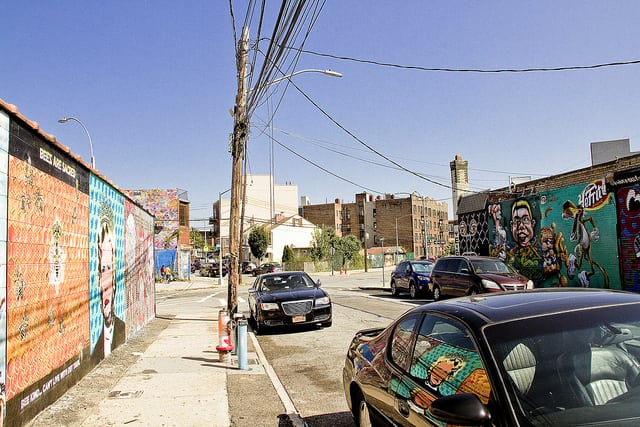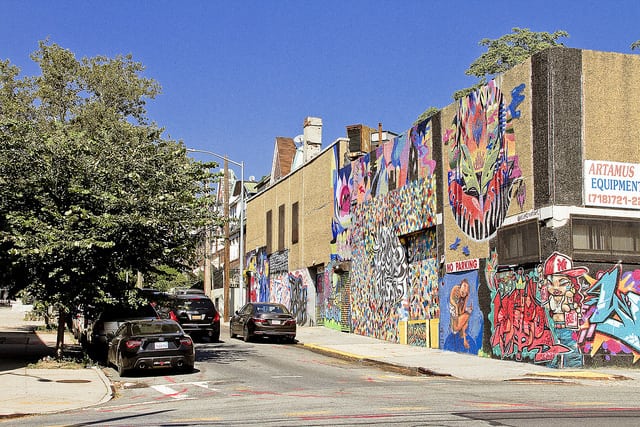 Welling Court Mural Project attracts street artists from around the world to Astoria, to create and display their artwork in public, and the installation plays out over several blocks. Check out the Welling Court website for all the details on the installation, and for a guide to the amazing art on display.
Welling Court will lead you north, and up a hill in the direction of 12th Street and Old Astoria.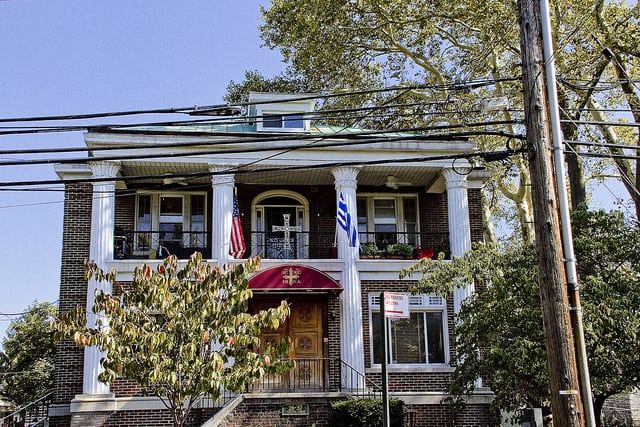 Old Astoria hosts a series of centuried mansions dating back to the 19th and early 20th centuries, most of which are still in use as homes today. The one pictured above, on the corner of 12th Street and 27th Avenue, has been converted over to serve the community as the Holy Protection Greek Orthodox Church. For more on the Old Astoria Village area, check out the Old Astoria Neighborhood Association.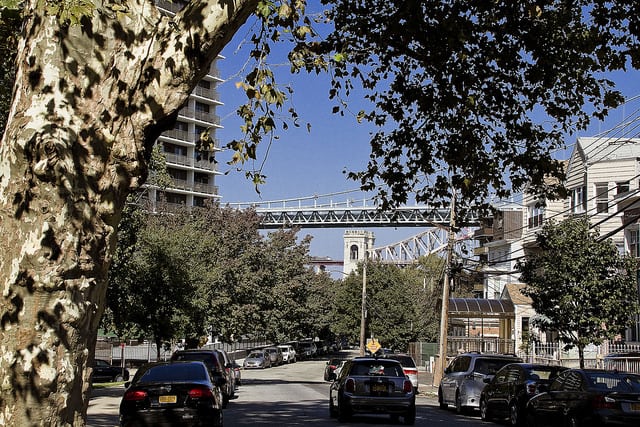 Walk down to Shore Blvd. by Astoria Park, which is only a 15-minute walk from NYC Ferry's Astoria Landing at Hallets Cove. A NYC Parks Dept. facility, you can find out everything about what Astoria Park has to offer at the NYC.gov website.
The first bridge you see is the Triborough, or Robert F. Kennedy, Bridge. The Queens/Wards Island span over the Hells Gate section of the East River by Astoria Park is just a part of mighty Triborough, which is actually a complex of three vehicular bridges connecting Manhattan, Queens, and the Bronx. Triborough was designed by chief engineer Othmar H. Ammann and architect Aymar Embury II and it opened in 1936. For more on the bridge, check out the MTA website.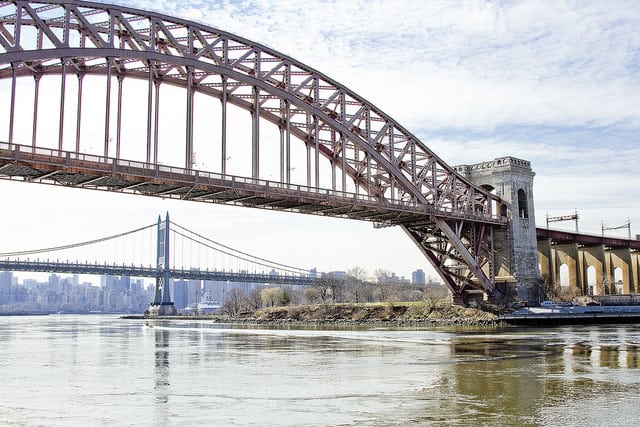 The second of the great bridges alongside Astoria Park is the Hell Gate Bridge. Hell Gate is a railroad bridge which opened in 1917, and this is its centennial year. The name "Hells Gate" assigned to this section of the East River comes to us from the Dutch era, when it was called "Hellegaat" which referred to the treacherous whirlpools and currents in this area.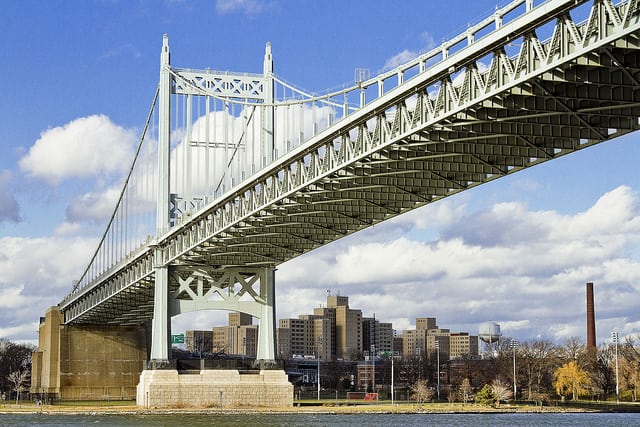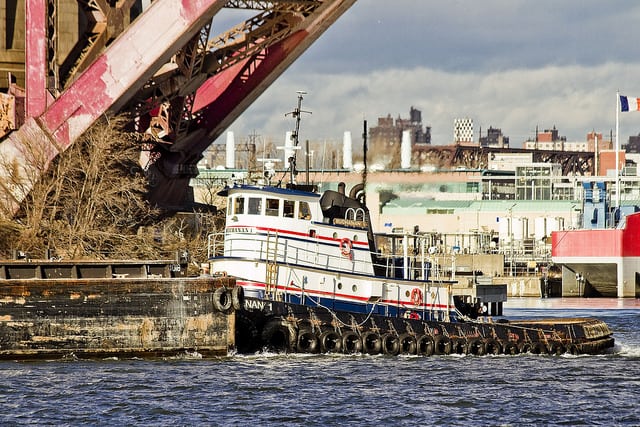 The Hell Gate section is quite navigable and safe to travel today, and if you wait around on Shore Blvd. for a little bit, you'll see tugboats and other ships sailing past.
Astoria has three east/west main commercial strips – Ditmars Blvd. 30th Avenue, and Broadway. If you've worked up an appetite checking out Welling Court, Old Astoria, and Astoria Park, you can't go wrong with grabbing a sandwich at Parkside Market on 19th street and Ditmars. Here's an insider tip – their hot sandwiches are amazing.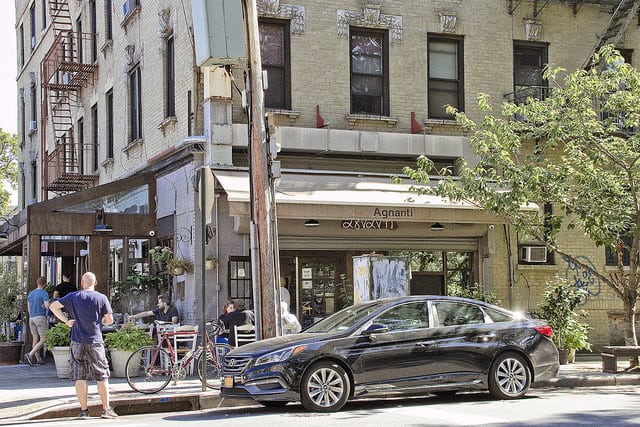 If you'd prefer a sit down meal, you can't go wrong with the Greek cuisine at Agnanti, which is on the corner opposite the Parkside Market. Be prepared to wait a few minutes for a table however, as this is a very popular dining location with both sidewalk cafe and inside seating.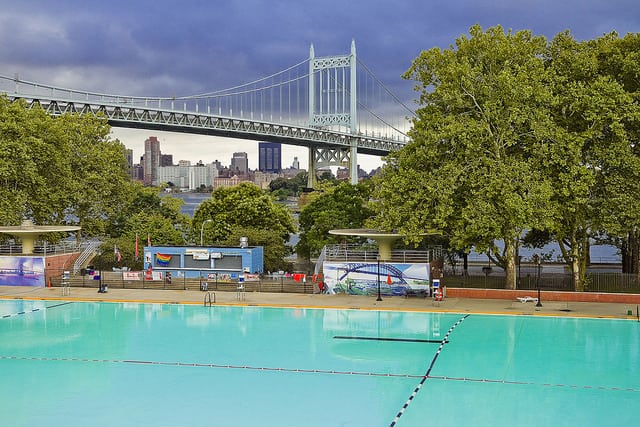 Head south through Astoria Park to check out the amazing Astoria Pool.
If you've still got a couple of minutes before getting back onto the Ferry, just down the block from Astoria Landing is another NYC Park, the Socrates Sculpture Garden. For information on what's being exhibited by some of NYC's best sculptors, check out their website for more information.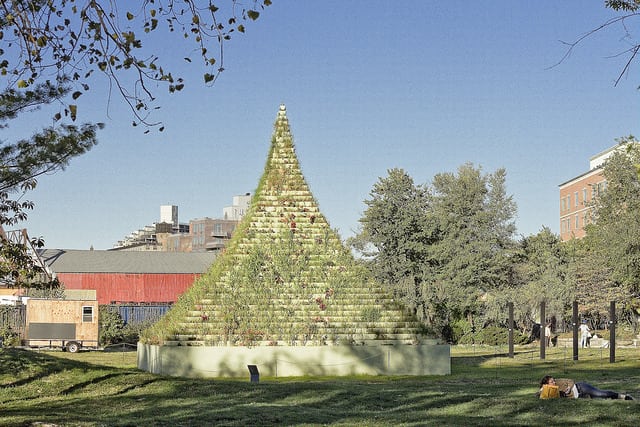 From Astoria Landing, you can go just about anywhere which the NYC Ferry goes. Where will you take it to next?