June 25, 2019
Happening near our Wall St.- Pier 11 landing
The Nautilus is a recent interactive art installation at the South Street Seaport. Unlike plenty of other artwork, you are encouraged to touch The Nautilus. Interaction with the installation is what brings it to life by making the 95 poles illuminate. The Nautilus gives art a new meaning by making it a public interactive piece of art. The Nautilus is only a 5-minute walk from the Wall St.- Pier 11 landing.
The Seaport Cinema is bringing some of your favorite movies to a big screen by the water! From now until September, catch a movie at The Rooftop at Pier 17. Along with enjoying a movie, there is also food and drinks available to make it a true movie experience. This evening of relaxation is only a 7-minute walk from our Wall St.- Pier 11 landing.
Happening near our E 34th St. landing
The NYC Pride March is this weekend on Sunday, June 30th! The march kicks off at noon from 26th Street and 5th Avenue and ends at 23rd Street and 7th Avenue. This year is the 50th Anniversary of the Stonewall Inn Uprising, so don't miss out on this huge celebration! Due to the parade, there may be issues with other forms of transportation due to roadblocks. To avoid congestion, take our Astoria, East River, Lower East Side, or Soundview route to East 34th St. and it is only a 25-minute walk to the start of the parade. Be sure to download the NYC Ferry app to plan your trip ahead!
The Rosé Mansion is back for its second round in NYC! Now in a bigger venue, there is much more fun in store with more rooms for you to explore. Each room has a different theme and different props for your photos. It's the perfect activity to get all the Instagram-able pictures for your feed and enjoy some rosé. The pop-up museum is located only a 20-minute walk from our E 34th St. landing.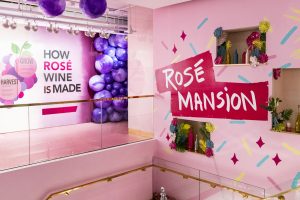 Happening near our E 90th St. landing
If Peruvian cuisine is something you like, Pio Pio is a great place to grab a bite! Even if you have never had Peruvian food, you will quickly learn why their rotisserie chicken (Pollo a la Brasa) and green sauce (Aji Verde) is so popular. There are multiple locations throughout The Bronx, Queens, Brooklyn, and Manhattan. Conveniently, there is a Pio Pio located at only a 10-minute walk from the E 90th St. landing!
If you find yourself needing a furry companion, the ASPCA has your soon-to-be best friend waiting for you! The ASPCA is home to countless animals that are in need of a permanent family! Stop by the ASPCA this weekend to see who's waiting to be brought into your loving home. It is only a 10-minute walk from our E 90th St. landing.
To stay up to date with all things NYC Ferry follow us on Facebook and Twitter @nycferry and Instagram @nyc_ferry and download the NYC Ferry App to plan your trip today!