#CruiseYourCity on our South Brooklyn route for a weekend of food and outdoor activities!
Previous
Next
June 28, 2019
With summer finally here, there's no reason to stay home! Our South Brooklyn route gives you countless options on how to spend your weekend. No matter if you prefer to enjoy the weather by doing something inside or outside, there's something for you to do.
Happening near our Wall St.- Pier 11 landing
The Garden Bar at the South Street Seaport is a great way to enjoy the weather! Whether you want to enjoy a quick drink or spend the evening under the lights and greenery, it won't disappoint. This outdoor bar sits right in the middle of the cobblestone street and makes for a great outing. The Garden Bar is located at only a 6-minute walk from the Wall St.- Pier 11 landing.
IPIC gives you a movie theater experience like no other. The theater offers meals as well as alcoholic and non-alcoholic drinks for you to enjoy in their luxurious theater rooms. Your seat comes with a blanket and pillow and complimentary unlimited popcorn! Watch the new blockbuster you've been wanting to see from this ultimate movie theater. IPIC is a 6-minute walk from the landing.
Happening near our DUMBO landing
Nothing screams ice cream like a summer day! Ample Hills Creamery prides themselves on their handmade ice cream that is made from scratch. Everything about Ample Hills Creamery tells a story; from the decorated pints to the ice cream flavors. Since they share their stories with you through their delicious ice cream, Ample Hills gives you the chance to pitch your idea for a new ice cream flavor through a story of your own! Grab a scoop from their Brooklyn Bridge Park location and enjoy the view by the water. The creamery is located 2-minutes from the DUMBO landing.
Brooklyn Bridge Park is giving you the chance to spend your Saturdays and Sundays on the East River! Every Saturday and Sunday from 10 am- 2 pm, Brooklyn Bridge Park is hosting free kayaking. Enjoy kayaking with friends or family this weekend! The fun happens at the Pier 2 Dock which is a 4-minute walk from the DUMBO landing.
Happening near our Atlantic Ave. landing
Pier 6 is the place to spend the day with the kids! The pier has 5 different playgrounds that have different themes for your kids to enjoy. The 5 parks include Sandbox Village, Water Lab, Slide Mountain, Marsh Garden, and Swing Valley. No matter which playground you go to, you and your kids are bound to have a good time. Be sure to dress accordingly for the playground because some of them do have water and sand. The playgrounds are only a 1-minute walk from the Atlantic Ave. landing.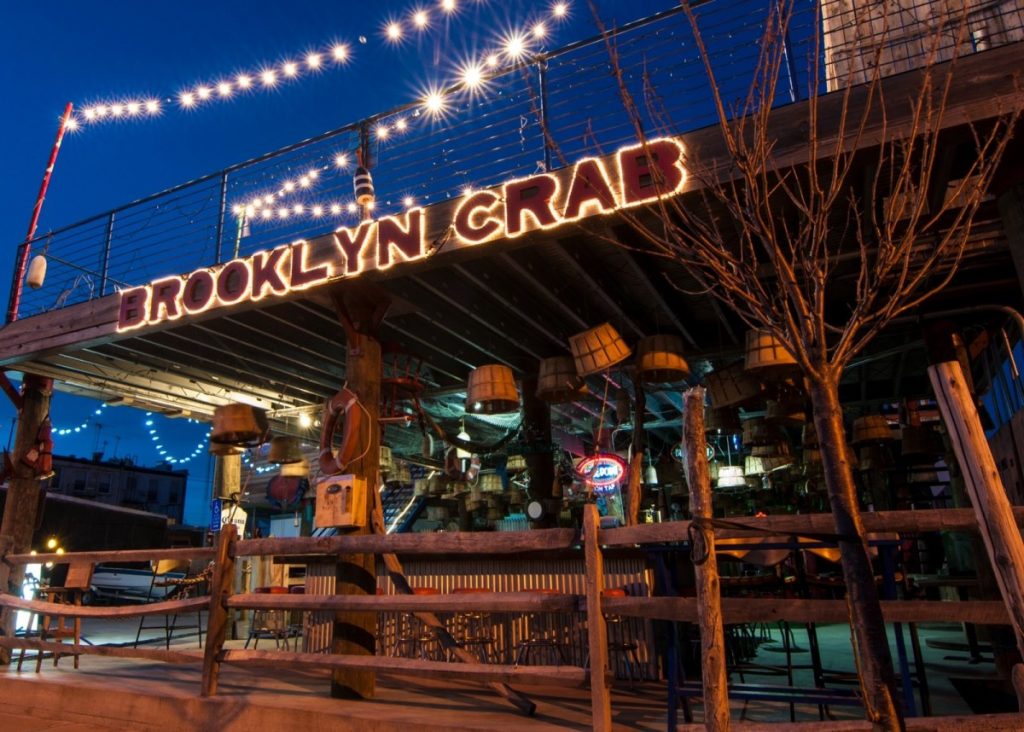 Happening near our Red Hook landing
Brooklyn Crab is the place to go for all seafood lovers! The restaurant offers plenty of outdoor seating for you to enjoy the weather and their food. Their roof deck seating area gives you a great view of New York City and the sunset. They don't only satisfy your seafood craving, they also have games for you to play with friends and family. Brooklyn Crab is located 11-minutes from the Red Hook landing. 
The Kentler International Drawing Space is a non-profit organization whose mission is to bring art by emerging and unrecognized artists to the public. This is the perfect place to go if you want to see the works of different artists. The gallery is open to the public from Thursday to Sunday. Kentler is located at only a 7-minute walk from our Red Hook landing.
Happening near our Bay Ridge landing
Narrows Botanical Garden, which is also described as "The Jewel of Bay Ridge", shows off their amazing greenery while educating its visitors on horticulture. By showing the beauty of all the plants, it helps to teach people how important is to respect the environment and to take care of it. Stop and smell the roses this weekend at the Narrows Botanical Gardens! The NBG is a 5-minute walk from the Bay Ridge landing.
To stay up to date with all things NYC Ferry follow us on Facebook and Twitter @nycferry and Instagram @nyc_ferry and download the NYC Ferry App to plan your trip today!