#CruiseYourCity on the East River route for a weekend of fun by the water, stargazing, and comfort food!
Previous
Next
July 10, 2019
New York City always has something for you to do! This weekend, we're cruising on our East River route for all the fun near our landings. Get ready for a weekend of pop-up museums, food, and stargazing!
Happening near our Wall St.- Pier 11 landing
Industry Kitchen satisfies your appetite while giving you the best view of the Williamsburg and Brooklyn Bridges. The restaurant has seating indoors and outdoors, both with a great view of the skyline. After grabbing some food from Industry Kitchen, the South Street Seaport if you aren't ready to head home just yet. 
City of Water Day is this Saturday, July 13th! Waterfront Alliance wants you to see all the fun you can have by the East River. You will be able to meet local marine life and participate in science experiments and other water-related activities. There will also be a kayak race between various organizations, corporations, and community groups, as well as free public kayaking.
Happening near our DUMBO landing
Stargaze at Brooklyn Bridge Park this Friday, July 12th from 8:30 pm- 10:30 pm! The Amateur Astronomers Association of New York will have telescopes set up for the public to Journey to the Stars. Take the East River route to DUMBO and is only a minute walk from the landing.
Gibney at Brooklyn Bridge Park is this Saturday, July 13th from 7:30 pm- 8:30 pm! Gibney Dance Company "makes space for dance" in outdoor spaces in hopes of showing the importance behind the power of movement. Enjoy the performances at Harbor View Lawn located at only a 4-minute walk.
Happening near our South Williamsburg landing
Domino Park has 5- acres for you to relax by the East River. The park includes a dog park, a fountain, and much more! There are even different areas for various sports to enjoy some friendly competition. Domino Park is only a 9-minute walk from the South Williamsburg landing. 
Tacocina doesn't disappoint with their tacos and margaritas. You get the bonus of enjoying the view from Domino Park while satisfying your taste for Mexican flavors. Tacocina presses its own tortillas and makes their own guacamole, hot sauce, and salsa. It is only a 10-minute walk from the landing.
Happening near our North Williamsburg landing
Sweet Chick brings you classic comfort food along with delicious twists on classic dishes. While their most popular dish is chicken and waffles, they feature plenty of other options like breakfast burritos, eggs benedict, and steak and eggs. Sweet Chick is only an 11-minute walk.
Wonder World NYC has made its way to Williamsburg! Experience the work of eight emerging artists that are from New York through eleven installation spaces. Share the experience with your followers and tag @wonderworldspace on Instagram! Wonder World is only an 8-minute walk from the North Williamsburg landing.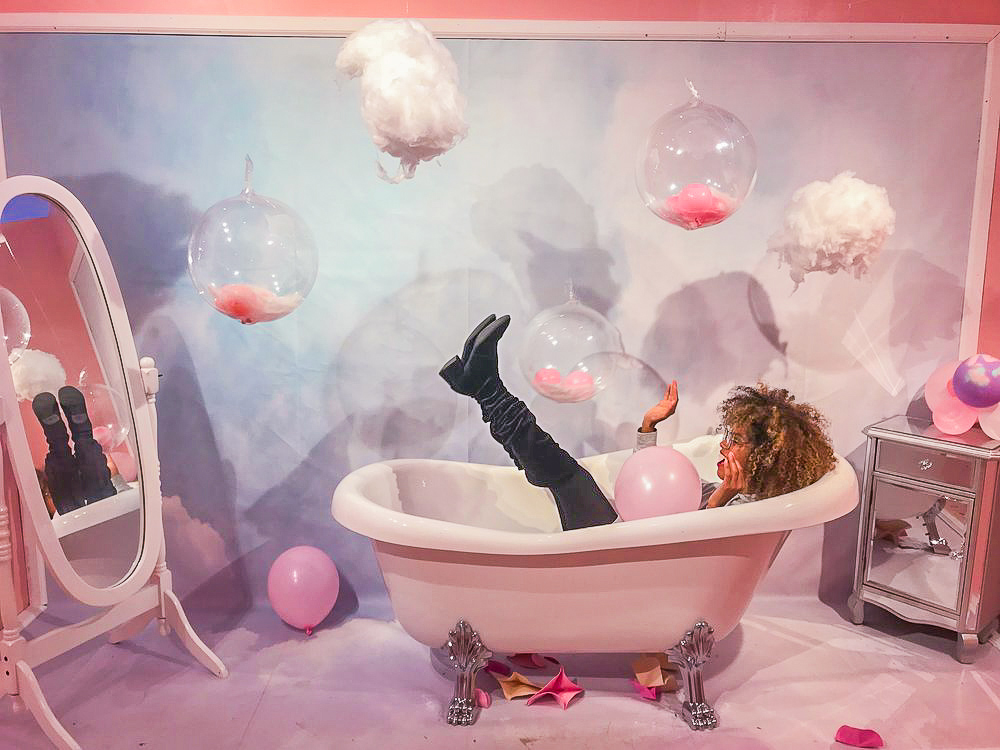 Happening near our Greenpoint landing
The Brooklyn Barge Restaurant celebrates New York City's maritime history! Aside from having recreational water activities, you can enjoy some food on the waterfront. The Brooklyn Barge Restaurant has everything from chicken wings to Maine Lobster Rolls. It is only a 6-minute walk from the Greenpoint landing. 
Happening near our Hunter's Point South landing
Lululemon and The Yoga Room LIC are giving you a summer of yoga! Every Saturday morning until August 24th. Enter a state of zen from 10 am- 11 am for a positive start to your Saturdays. Be sure to bring your own yoga mat due to the volume of attendance that is expected. Lululemon Summer of Yoga is a 1-minute walk from the Hunter's Point South landing.
Take a stroll through Gantry State Park to admire the Manhattan skyline from four different piers. Expect to see gardens and a mist fountain to help cool off on those hot summer days. You can also play basketball and handball, as well as catching some fish from the fishing pier. Gantry State Park is an 8-minute walk from the landing. 
Happening near our E 34th St. landing
34th Street is making sure you have something to take your mind off work on Fridays! Unleash your inner child by learning to juggle and play giant games of Jenga, Connect 4, and chess. If you want to break a quick sweat, you can even jump rope or hula hoop. All the fun is waiting for you only a 20-minute walk from the E 34th St. landing.
Tipsy Scoop brings a new twist to ice cream with their liquor-infused flavors! Of course, if you are 21 years old or older we urge you to go give it a try! Whatever your preference is, there is a flavor to satisfy your sweet tooth. Grab a scoop this weekend! Tipsy Scoop is only a 16-minute walk from the landing.
To stay up to date with all things NYC Ferry follow us on Facebook and Twitter @nycferry and Instagram @nyc_ferry and download the NYC Ferry App to plan your trip today!