June 10, 2019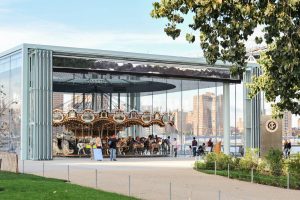 Happening near our Wall St.- Pier 11 Landing
Bobby Van's is a huge hit for those who love steak! The steakhouse chain is known for its food as well as the atmosphere and service. Bobby Van's first restaurant was in Bridgehampton, New York which has since then grown and there are now many locations throughout New York, including near the Wall St.- Pier 11 landing. Bobby Van's is a 9-minute walk from the landing.
Happening near our DUMBO/Brooklyn Bridge Park- Pier 6 Landing
Free kayaking Saturdays at Brooklyn Bridge Park begin this Saturday, June 8th! From 10 am until 2 pm you can kayak next to the Brooklyn Bridge with no experience needed. Simply take either our East River route to DUMBO or South Brooklyn the route to Atlantic Ave.- Pier 6 and it's only a 12-minute walk to Pier 2 from there.
Happening near our South Williamsburg + North Williamsburg Landings
The World Mural Project is a popular activity to do this June in celebration of Pride Month! The colorful murals are displayed throughout all 5 boroughs, a couple of them being within a 20-minute walk from our South Williamsburg and North Williamsburg landings on our East River route. From the South Williamsburg landing, there is a mural located at 167 Havemeyer St. (16-minute walk). The three mural locations at the North Williamsburg landing are within a 15-minute walk and you can find them at 172 Grand St., 175 Bedford Ave., and 280 Bedford Ave.
Happening near our Greenpoint Landing
Summer days call for a cold treat! The Brooklyn Ice Cream Factory is the place to go to satisfy your sweet tooth. You can enjoy their ice cream or a root beer float with a view of the Manhattan skyline from this ex-fireboat house. The Brooklyn Ice Cream Factory is just a 13-minute walk from our Greenpoint landing.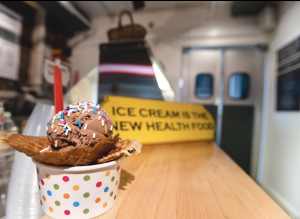 Happening near our East 34th St. Landing
Escape Room Madness has become a popular activity and our 34th St. landing leaves you close to the fun! Escape Room Madness is an adventurous activity that leaves you having to solve puzzles in order to escape the room. From our 34th St. landing, it is only a 20-minute walk.
To stay up to date with all things NYC Ferry follow us on Facebook and Twitter @nycferry and Instagram @nyc_ferry and download the NYC Ferry App to plan your trip today!