July 2, 2021
This week, we sat down with Maria Littlefield, the co-founder of Owl's Brew, to chat about being a female entrepreneur and what makes their drinks special.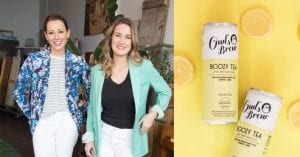 Spiked drinks are all the rage right now! They're light and refreshing especially during these warm summer months. But there is a new kid on the block that is changing the game: Owl's Brew Boozy Tea is a fresh-brewed, organic, 100%-real-ingredients hard tea seltzer. We are lucky enough to be able to carry this amazing product on our ferries, available at The Snack Bar.
Q: What inspired you to create Owl's Brew?
Jennie and I just didn't believe that you should have to make a choice when you were drinking between something with chemicals or a vodka soda. Jennie is a tea sommelier and has crafted iced teas and tea cocktail programs for restaurants including Momofuku, Sweetgreen, Soho House, and Edition hotels. With her tea blending expertise, we (Jennie & Maria) started crafting boozy beverages using organic teas and botanicals as the base. The result was something seriously delicious and seriously refreshing. When we literally couldn't find anything like it on the market, we decided to launch Owl's Brew Boozy Tea, a hard tea seltzer made from whole, real ingredients.
Q: What makes Owl's Brew unique?
Owl's Brew was built from a shared passion and respect for real ingredients, and the idea that when you are celebrating, you can still be putting good things into your body. All Owl's Brew Boozy Tea styles are made with only whole, real ingredients including fresh-brewed tea, fruit, and botanicals. To make Boozy Tea, we fresh-brew tea (just like you would in your kitchen!), add a splash of juice or a dash of cane sugar, and spike it to 4.8%. All five styles are gluten-free, vegan, and low-calorie.
In addition, Owl's Brew is a female-founded brand, in an industry where only 4% of brewers, salespeople, or leadership members are women. This gives us a unique perspective in this industry and category. It's incredibly important to us that we build a supportive, fun, and meaningful community. Owl's Brew launched a platform called the Wise Women Collective earlier this year, that supports women's initiatives and charity programs. On our site, you can submit your local charity or gathering and we will support. We also have upcoming national programs launching with Dress for Success and Keep A Breast, in addition to our Boozy Book Club, which launched in May. For our first read, we partnered with best-selling author, Lauren Weisberger for her new book, Where the Grass is Green and the Girls are Pretty, and just announced the latest in our lineup with Beck Dorey-Stein and her novel, Rock the Boat.
Q: What have been the most challenging and most rewarding aspects of your business?
We certainly weren't planning it this way, but we launched Owl's Brew Boozy Tea just before the pandemic hit. It was a challenging time for everyone and we had to make decisions that were not in the original plans to build our brand. Fortunately, despite the challenges we were faced with during launch, the reaction to Owl's Brew Boozy Tea has been incredible. Consumers are excited, and whether they are picking it up for real ingredients, the refreshing taste of real ingredients, (or both!), we're humbled and thrilled by the reaction that we've had in the market. We have expanded to 8 new states in 2021, making Owl's Brew Boozy Tea currently available in a total of 18 states.
Q: What is your favorite Owl's Brew Flavor?
I love them all, it's so hard to choose! The Darjeeling & Hibiscus is a perfect choice for a refreshing summer sipper and it's recently won a Double Gold medal in the hard seltzer category from the SIP Awards and a Gold in the New York International Beer Competition. There's a Boozy Tea style for everyone in our variety packs, and it's the taste that is really winning people over.
Q: What is a flavor you would love to experiment with in the future?
We are experimenting with lots of different ingredients and keeping a pulse on the flavors that are trending in cocktails & cuisine. There is a world of incredible flavors out there and when you're using real ingredients, the options are endless. We have something really fun (and delicious) launching this fall. Stay tuned!
Q: What does the future look like for Owl's Brew?
We've really only just begun. Owl's Brew Boozy Tea is currently available to drinkers in 18 states across the country, and our team is incredibly focused on making it possible for people everywhere to be able to have access to good, clean, and delicious beverages — and it shouldn't be a choice between good and affordable. We want to make Boozy Tea available to drinkers everywhere so we are currently focused on growth and distribution.