June 30, 2021
Fun in the Sun on Governors Island!
Governors Island is the perfect summer day trip, just a short ferry ride from our Wall Street/Pier 11 landing. There is no shortage of fun activities to do once you arrive. Join us as we take a look at some of the possibilities.
Slide Hill
Slide Hill offers a variety of slides that will have you zooming down the hillside. It features four slides, including a family slide built for two people to ride down at once. But the star of the show is the fourth slide: a curving, 57 foot-long, three-story-high slide—the longest in NYC!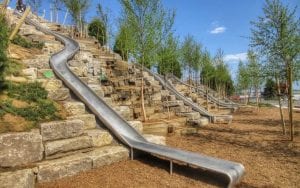 Taco Vista
You're guaranteed to get hungry during your trip, so why not make a pit stop for some of the best tacos in Governors Island at Taco Vista. In addition to tacos, the restaurant provides great drinks, service, and stunning skyline views! Stay tuned to our Instagram for something special coming from Taco Vista this month.
View this post on Instagram
Hammock Grove
Relax in the iconic red hammocks in this peaceful corner of Governors Island. You'll be surrounded by the park's lush foliage and you might even get a glimpse of the Manhattan skyline.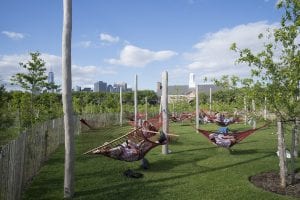 Rent Bikes
Leave behind the rush of the city and rent a bike to cruise on Governors Island's car-free roads. Surreys and go-karts are also available for those looking to step beyond the average two-wheeler.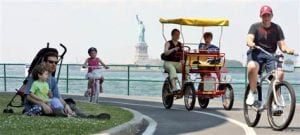 Adventures at Governors Island
Adventures at Governors Island is for thrill-seekers of all ages. Visitors can fly down a 300-foot zipline, challenge themselves on a climbing wall, wander through a problem-solving maze, or enjoy a round of mini-golf.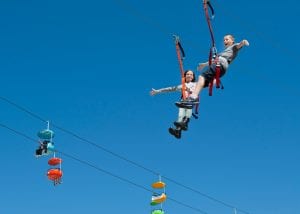 The Yard
The Yard supplies young people with materials for building, exploring, and imagining. The Yard is a kids-only space for ages 6 to 18, offering weekend play from 12 to 4pm.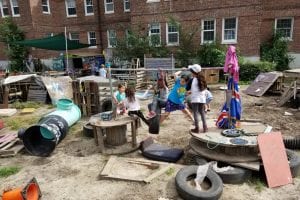 Getting There
NYC Ferry offers weekend-only service for $2.75 to Governors Island from our Wall Street/Pier 11 landing. Click here to see the weekend schedule.