April 28, 2021
NYC Ferry's concession stand has a whole new look.
Introducing — The Snack Bar!
Onboard concessions will resume on Saturday, May 1st — just in time for the launch of this season's weekend service to Governors Island. The Snack Bar will offer your favorite bites, from chips and candy to healthier options like nuts and dried fruit. Beverage options will include White Claw Hard Seltzer, Cutwater Vodka Mules, local craft beer from the Bronx Brewery and Brooklyn Brewery, and other domestic and imported beers. Please drink responsibly.
How to order:
Place your order through our contactless ordering system by scanning the QR code on the back of the seat in front of you. Once your order is ready, you'll receive a notification that your order is ready to be picked up at The Snack Bar.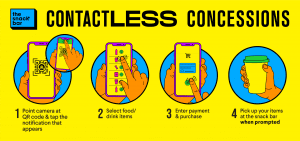 Please remember that masks must be worn at all times while onboard except for brief periods while eating, drinking, or taking oral medication. Prolonged periods of mask removal are not permitted for eating or drinking – masks must be worn between bites and sips.
Happy sailing!