July 20, 2023
Get ready to turn up the volume as New York City, the birthplace of Hip-Hop, gears up to celebrate 50 years of this game-changing genre. Brace yourselves for an epic lineup of events, featuring the hottest artists, DJs and more, as we groove our way through the vibrant tapestry of Hip-Hop culture. It's time to bust out your moves and join the party as we pay homage to the legendary legacy of Hip-Hop in the city where it all began!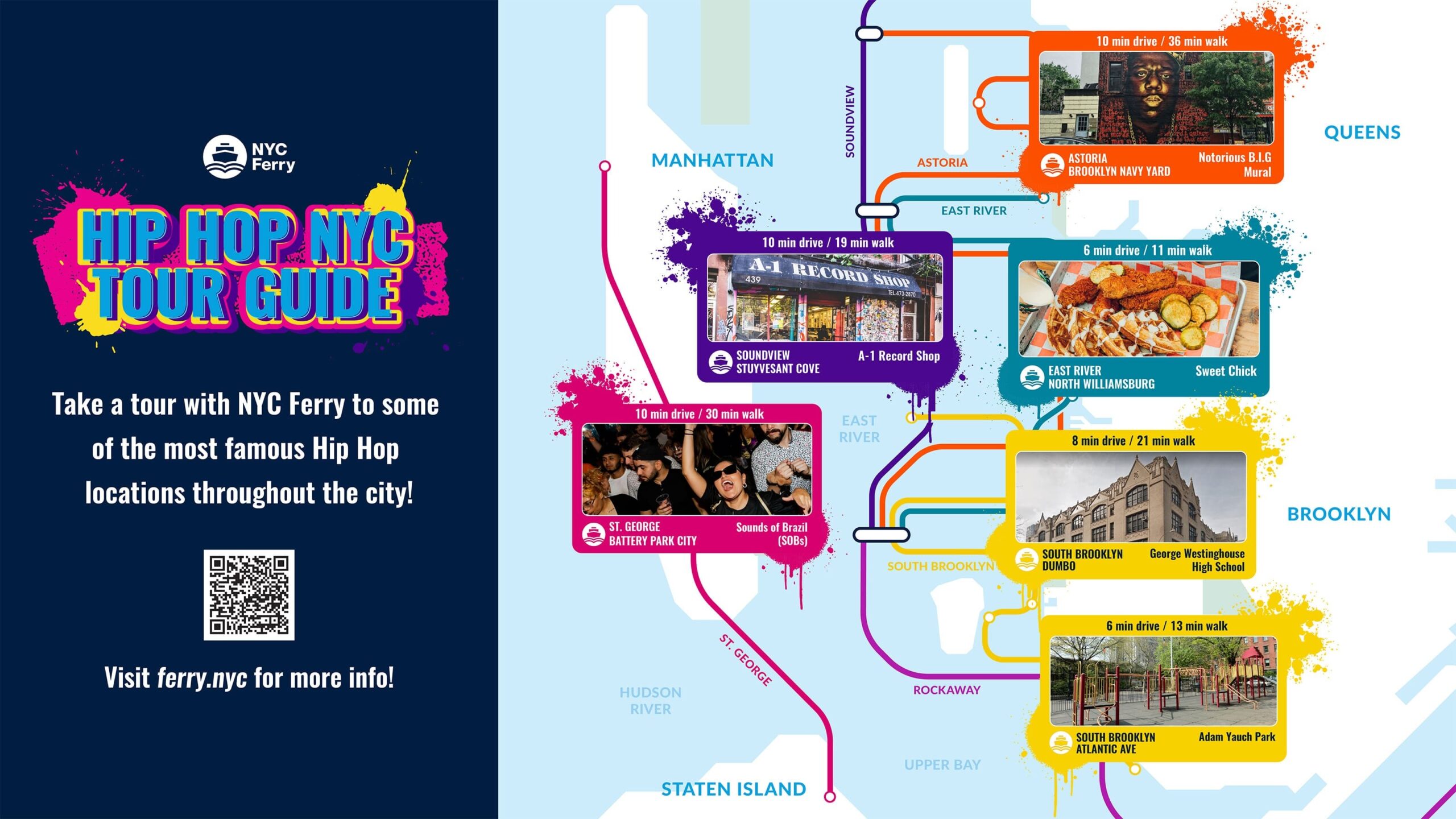 Here are some exciting Hip-Hop events, installations, and small businesses to check out that are accessible from NYC Ferry landings. Pump up the NYC Ferry Hip-Hop 50 playlist on your headphones and sail with us to one of the events below.
Hip-Hop at 50 by Janette Beckman – Presented by Photoville
Relive the golden age of hip-hop in 1980s NYC with photographer Janette Beckman's iconic images of rap pioneers like Run DMC and Salt-N-Pepa. Celebrating hip-hop's 50th anniversary, the Seaport exhibition is part of the Photoville Festival. Photoville promotes inclusivity and cultural equity, offering free educational initiatives and public art exhibitions nationwide.
Dates: June 7 – Oct 31, 2023
Location: 22 Fulton Street, windows on the corner of Fulton & Front Streets
NYC Ferry Landing: Wall Street / Pier 11
Learn more
"There's a certain energy in New York that fuels the hip-hop culture. It's electric, vibrant, and unmatched." — Fabolous
Real Rap: Hip-Hip Star Power on Screen
Get ready for an unforgettable film series at the Museum of the Moving Image! Spotlighting hip-hop artists who have graced the big screen, this lineup showcases action-packed blockbusters, thought-provoking comedies, and independent dramas from the 1990s to the 2000s. Experience the essential stories of diverse communities portrayed by gifted and captivating artists who have not only transformed pop culture but also reshaped the very definition of movie stardom. Alongside the screenings, the series offers special introductions, discussions, a mesmerizing spoken word showcase, and even a summer dance party. Don't miss out on this incredible celebration of hip-hop's influence on film!
Dates: Jul 28 – Oct 21, 2023
Location: Museum of the Moving Image
NYC Ferry Landing: Astoria
Learn more
"Growing up in NYC, hip-hop was like a religion. It taught us to be bold, confident, and unapologetically ourselves." – Lil' Kim
Hip Hop Til Infinity: An Immersive Trip Across 50 Years
Step into a captivating digital journey through the eras and regions of Hip Hop. This evocative installation, presented by Hall des Lumières, utilizes cutting-edge audio-visual technology to illuminate the rich history of Hip Hop. Prepare for an immersive experience featuring virtual concerts, live panels, listening parties, artist meet & greets, and more. Hip Hop Til Infinity is part of Mass Appeal's Hip Hop 50 initiative, a global celebration honoring the genre as a movement that has deeply impacted communities worldwide.
Dates: Aug 2nd – Sept 17th
Location: Hall Des Lumieres
NYC Ferry Landing: Battery Park City
Learn more
"New York City is the canvas, and hip-hop is the paint that colors our stories, struggles, and triumphs." – Jadakiss
Hush Tours
Experience the unmatched authenticity of Hush Tours, the ultimate hip hop adventure. Immerse yourself in the true origins of hip hop culture 40 years ago, guided by real celebrity talent. Each Hush Tour offers a unique, comprehensive exploration of the vital elements of the New York hip hop scene. Discover the world of DJs, MCs, B-Boys, and Graffiti artists, unveiling a side of New York even locals have yet to see. Don't miss this exclusive opportunity to witness the essence of hip hop firsthand on a bus or walking tour.
Dates: Bookings available now through January
Location: Various locations
Learn more
"New York City breeds hip-hop pioneers, innovators who push the boundaries and redefine the genre." – Busta Rhymes
Legacy
Looking for a spot to get some Hip-Hop records? This Black-owned business in DUMBO is the perfect place to stop by when visiting our DUMBO ferry landing. Find a wide range of Hip Hop albums along with other great genres. 
NYC Ferry Landing: DUMBO
Learn more
"Hip-hop in New York is a reflection of the city itself – diverse, raw, and always evolving." – Remy Ma
Little Movers: Hip-Hop Kiddos
Enjoy stories and songs seasoned with Hip-Hop flavor for kids. Get those wiggles out while helping your active child develop important early learning skills. Discover ways to promote early literacy at home and meet other caregivers in the neighborhood. Best for new walkers, toddlers or children at this stage of development.
Dates: Wednesday, August 16, 23 + 30, 2023, 12 – 12:30 PM
NYC Ferry Landing: Soundview
Learn more
"Hip-hop was born in the heart of New York City, and its spirit still pulses through the streets." – Joey Bada$$
Hip-Hop Hat Fashionistas
This one is for the fashionistas! Learn about hip hop fashion and then decorate your own bucket hat.
Dates: Monday, August 28, 2023, 3 – 5 PM
NYC Ferry Landing: Soundview
Learn more
"New York is the birthplace of hip-hop, and the culture is embedded in our DNA." – A$AP Rocky
Staten Island Celebrates the 50th anniversary of Hip-Hop: hosted by Raekwon the Chef & Friends / Tyrone Briggs with the Jazztron
Celebrate the 50th anniversary of hip-hop as Raekwon honors that legacy with a few friends, including Staten Island native Tyrone Briggs, performing with the borough's funkiest fusion band the Jazztronauts, and Shyheim, the Wu-Tang-affiliated MC who broke out at 14 years old with his 1994 LP AKA The Rugged Child. Hip-hop will be celebrated with live graffiti, dance and streetwear vendors.
Dates: Friday, August 11, 2023, 5 PM
NYC Ferry Landing: St. George
Learn more
"New York City is the mecca of hip-hop, where legends are made and dreams come true." – Rakim
Hip Hop 50th Anniversary 5K
Join the anniversary celebration of Hip-Hop by signing up for a 3.1 run. Runners will start & finish line at the Soundview Park entrance of Lafayette & Colgate Avenue. At 8am, runners will be qued to start racing along the paved road.
Dates: Friday, August 11 · 8 – 11 AM
NYC Ferry Landing: Soundview
Learn more
"Being born and raised in NYC, I saw firsthand how hip-hop became a powerful voice for our communities." – Talib Kweli
Hip Hop's 50th: Queens of Hip Hop Edition
Celebrate 50 years of Hip Hop at this day-party event. Women have played an integral role in Hip Hop, so let's honor them in true Hip Hop style!
Dates: Saturday, August 19, 2023 , 3 – 10 PM
NYC Ferry Landing: Midtown West
Learn more
Growing up in New York, hip-hop was the soundtrack to our lives. It's in our blood." – Nicki Minaj
Rollerskate to Celebrate 50th Anniversary of Hip-Hop
Rollerskate to all the greatest hip-hop hits at this exciting event! Free snacks and giveaways with skates and music from SKATEROBICS. Skates will be available on a first-come, first-served basis and require a photo ID to check out.
Dates: Saturday, August 19, 2023 , 3 – 10 PM
NYC Ferry Landing: Corlears Hook
Learn more
"New York City's hip-hop scene is a melting pot of cultures, styles, and sounds. It's the birthplace of diversity in rap." – A$AP Rocky
Performances + Hip-Hop 50th Feature at Gantry Plaza State Park LIC
Check out this fun event with Hip-Hop dance performances by talented dance companies. Enjoy a breakdance battle demo with Dynasty Breaking NYC and a post-show special beatbox performance by the Missing Element.
Dates: Saturday, August 26, 2023 , 5 – 7:30 PM
NYC Ferry Landing: Long Island City
Learn more
"Hip-hop is the heartbeat of New York City, pumping life and rhythm into every block and borough." – Jim Jones
Performances + Hip-Hop 50th Feature at Hunter's Point South Park LIC
Join in on the fun for dance performances at Hunter's Point South Park in Long Island City. Hip-Hop lessons with Ladies of Hip-Hop dancer Jai'Quin Coleman will begin at 5:40, so bring your dancin' shoes!
Dates: Saturday, August 27, 2023 , 5 – 7:30 PM
NYC Ferry Landing: Long Island City
Learn more
"The streets of NYC birthed hip-hop, and the streets continue to inspire the rhymes and beats that shape the culture." – A$AP Ferg
Bronx Summer Concert Series
Enjoy Hip-Hop music during the Bronx Summer Concert Series, held at various parks throughout the Bronx this summer.
Dates: Every Sunday through Sept 3rd, 1-5 PM
NYC Ferry Landing: Soundview
Learn more