The Experiences
On-board Safety and Code of Conduct
Your safety is important to us
To ensure that your ride is smooth sailing, please follow the safety guidelines listed below.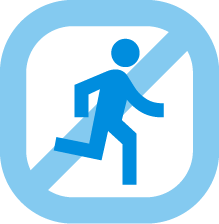 No Running
Running is not permitted on board or at landings.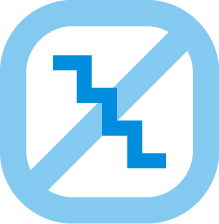 Stay off the stairs & ramps
During docking, stay off the stairs and ramps, and landings until the ferry has come to a complete stop at the dock. Failure to do so may result in personal injury.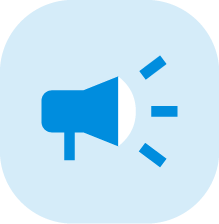 Listen
In case of emergency, listen for announcements and instructions from the crew.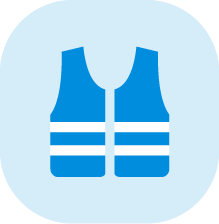 Locate Life Jackets
Please familiarize yourself with the location of life jackets on this ferry. Life Jackets are located on both decks of all NYC Ferry vessels. On the main deck, the life jackets are located in the back of the vessel, outside the doors in a container labeled 'Life Jackets'. On the upper deck, the life jackets are located beside both sides of the stairs in containers labeled 'Life Jackets'. Instructions for their use are posted throughout the ferry.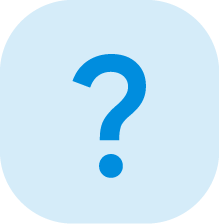 Ask For Help
For assistance, see crew members
Code of conduct
On Board NYC Ferry Vessel
Our code of conduct adds to the quality of your ride. Crewmembers take this seriously to provide the best service.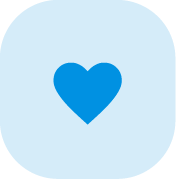 Let's Keep Everything Safe & Aboveboard
No person shall engage in disorderly behavior on landing sites or ferries. Disorderly behavior includes, but is not limited to, acts that endanger the safety of oneself and/or others and are disruptive to Crew members and the normal function of the ferries. Aggressive behavior will not be tolerated and may result in denial of service.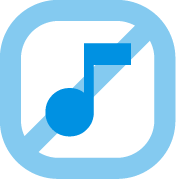 Not Everyone Likes Your Music
Playing any audible device so that it is plainly audible to others without the use of earphones is prohibited. Audible devices include but are not limited to phones, radios, game devices and video/audio playback devices.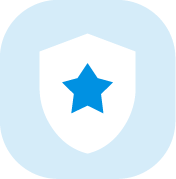 Security
Upon entering the facility, all riders and their property are subject to screening or inspection. Failure to consent or submit to screening or inspection will result in denial or revocation of authorization to enter. NYC Ferry operates under the Coast Guard regulations, and there are mandatory bag screenings in place for our larger vessels. Our crew has been trained on how to perform the bag screenings. We have a formula that we use and a number is generated daily to determine the passengers who receive the random bag screenings.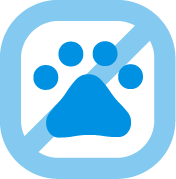 Sorry, Fido – No Furry Friends
Pets, other than service animals as determined by the Americans with Disabilities Act, are not allowed onboard the ferries, unless they are caged and/or muzzled.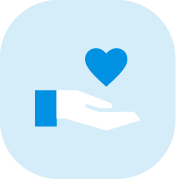 The Golden Rule
Our crew is there to help all riders safely reach their deistination on NYC Ferry. All persons shall follow the direction of ferry Crew members.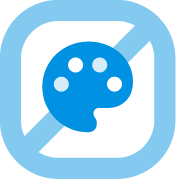 If You Like Creating Art, Rent a Studio
Destruction, graffiti, or marking of vessel is prohibited. Violation of this policy will result in denial of service and/or removal from the vessel.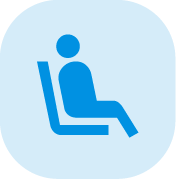 There are 149 Seats, You Only Need 1
Lying down on seats and benches on board ferries is prohibited. No person shall occupy more than one seat. No person shall place personal belongings on seats and benches so as to interfere with their use by others. Animals are not permitted to occupy a seat.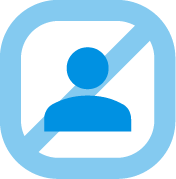 We Have Enough Crew, Thank You
No person shall do anything which may interfere with the effectiveness or accessibility of any systems or equipment installed or located on the ferries including but not limited to boarding doors and the public announcement and intercommunication system.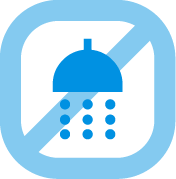 This Is Not a Locker Room
No person shall bathe, shower, shave, wash or change clothes or remain undressed in any public restroom or any other area on the ferries.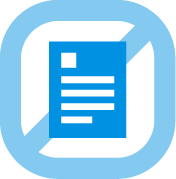 Save a Tree – Post No Bills
Distribution or posting of any literature or advertisements, or campaigning without a permission of NYC Ferry operated by Hornblower is prohibited.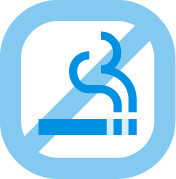 We Have Fresh Air – Keep it that Way
Smoking and using electronic cigarettes are prohibited onboard the ferries at all times. Smoking and using electronic cigarettes are also prohibited within all enclosed spaces in the terminal and is allowed only in designated terminal areas.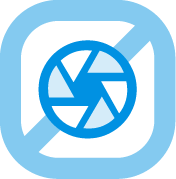 Lights, Camera – Cut
Commercial use of video, photography or audio recording equipment without permission of NYC Ferry operated by Hornblower is prohibited.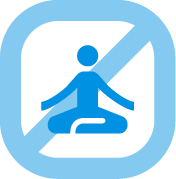 It's a Ride, Not a Destination
No person shall remain on any ferry or in any terminal other than for transit or other NYC Ferry authorized purpose.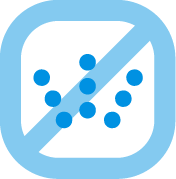 No One Likes Sea Spray
No spitting or creating of any unsanitary conditions.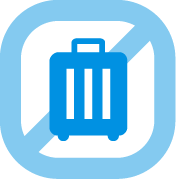 Corral any Carry-ons
No person shall leave any property unattended on the ferries or place property on the floors that may interfere with pedestrian traffic.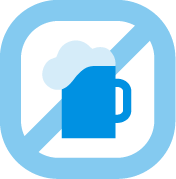 Drink Responsibly
Alcoholic beverages are not permitted to be carried off the vessel. We ask that you finish your beverage prior to leaving. Alcoholic beverages can only be sold (1) per I.D. at a time with a limit of (2) drinks per passenger.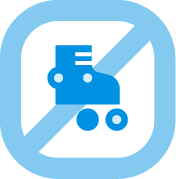 Use Your 'Sea Legs'
No person shall skateboard, roller skate or ride a bicycle, scooter or any other vehicle or device (except a wheelchair required for transit) on or through any part of the ferries. Bicycles and non-motorized scooters must be walked through the ferries.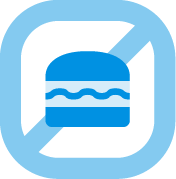 Outside Food & Beverage
No outside food or beverages shall be consumed on board NYC Ferry vessels at any time. Please finish your food and beverage items before you board our vessels.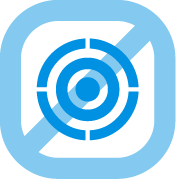 No Weapons on Waterways
Unauthorized carrying of a firearm or weapon on the ferries is prohibited.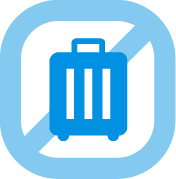 It's a Ferry, Not a Garbage Barge
No littering – bring all trash with you when you disembark the ferry.