Yoga in the Garden 2019
Brooklyn Greenway Initiative Presents Free Yoga At The Naval Cemetery Landscape
Details Date: September 26, 2019 iCal
Start: 6:30 PM
End: 7:30 PM
Location Naval Cemetery Landscape (map)
63 Williamsburg St W
Brooklyn , NY 11249

Yoga in the Garden
Take NYC Ferry's Astoria Route to the Brooklyn Navy Yard and head on over the Naval Cemetery Landscape to join Brooklyn Greenway Initiative for free outdoor yoga on the elevated boardwalk. Brought to you by Nature Sacred and Brooklyn Greenway Initiative.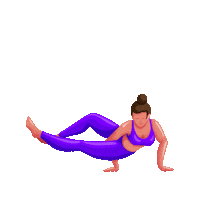 This yoga program is a collaboration with Designing Yoga Experiences (DYE), a yogini collective of three Earthy friends who facilitate wellness events and offer a combined 9 years of teaching experience in the NYC area.
Their practice draws from various teaching styles with the common thread of Yoga, Reiki and an interest in sound as a healing modality. Their teaching styles reflect a practice rooted in Vinyasa, Hatha and Katonah methods. Expect open level flows and Hatha sequencing with a new outlook on fitness through the weaving of these methods. There's something for everyone
Classes are suitable for all experience levels and will include postures and breathing techniques that promote balance, strength, and flexibility of body and mind. Just remember these classes are BYOM (Bring your own Mat).
About the Instructors:
Christine Beckmann
She is a 200hr registered yoga teacher under Yoga To The People NYC. Her jam is a good old Vinyasa style yoga with lots of flow that is designed to cater to all levels of yogis and yoginis…(read more)
Karen Jarman:
Completed 400hrs of yoga teacher training from both Ananda Ashram & Katonah — A Hatha Yoga practice incorporating Taoist theory, geometry, magic, mythology, metaphor, and imagination — and worked closely with a Tantra/Reiki mentor over a two-year apprenticeship. Her path thus far has taken her through the fields of Performing Arts, Hospitality, Culinary studies, Farming, Floristry, and the Holistic & Esoteric Sciences…(read more)
S. Cecilia Zuniga:
A bilingual yogini and Reiki practitioner, S. Cecilia Zuniga draws inspiration from various healing modalities and traditions to create a wellness experience that is in accordance with the energetics for a given time and season. Contingent on the style, a typical class might integrate alignment based seasonal Yoga inspired by the moon phases…(read more)
Stay up to date with all things NYC Ferry, visit our Events Page and Blog
Follow us on Facebook and Twitter @NYCferry and Instagram @nyc_ferry
Download the NYC Ferry App to plan your trip today!