Vintage Rose Valentine's Market
Get Nostalgic at the Vintage Rose Valentine's Market
Details Date: February 10, 2019 iCal
Start: 1:00 PM
End: 7:00 PM
Greenpoint Loft (map)
67 West Street
Brooklyn, NY 11222

The Vintage Rose Valentine's Market back!  Are you already feeling kind of dreamy? Then travel via NYC Ferry to the Valentine's Market and Prepare to fall in love! Take NYC Ferry's East River Route to Greenpoint and you'll be transported to a simpler time. A time before swiping right and sliding into DMs, when the art of hand-writing a Valentine was alive and well. The Greenpoint Loft (67 West Street) will be cast in a rosy glow with perfect Valentine's Day gifts of every variety. RSVP HERE!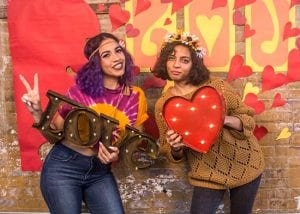 Live music by Love Always and Kendra Morris will set the mood — and you'll want to capture the day's enchanting memories in our free custom painted oversized Vintage Rose Garden photo booth. Lovely libations? We've got 'em. Choose locally brewed craft beer from Greenpoint Beer & Ale, feel the warm-and-fuzzy vibes of rose water gimlets mixed with Brooklyn Gin, cozy up with hot mulled wine with BABE Wine, or chill out with Brooklyn Boocha's CBD Kombucha. Plus guests will get to have TWO FREE DRINKS courtesy of Cinch!
The day will be full of FREE fun activities for all ages including:
Paper rose making station for kids and kids-at-heart by Success Academy Charter Schools
Flower Crown making workshop by Rosewood Floral Co
Nail Art by PEENK Nails
Photo Shoot by Gus Ponce Photography (with custom painted oversized paper vintage rose garden)
 Face Painting by Greenpoint YMCA
Dream Catcher Workshop by Living the Dream Catchers
Henna Tattoos by Miss V
Tarot readings and love potions inside Elisa Jimenez – The Hunger World's magical Fairy Glen!
3D Personal Scanning and Avatar Creation by Capture Me In 3D
LIVE MUSIC by Love Always and Kendra Morris
Get ready for some of the best food purveyors and local restaurants have to offer so come hungry!
Click here to discover more fun and exciting things to do along our NYC Ferry routes.