LIVE 4 LOVE ART INSTALLATION IN THE OCULUS
THE WORLD TRADE CENTER CELEBRATES NYC PRIDE 2019 WITH PUBLIC 'LIVE 4 LOVE' ART INSTALLATION
Details Date: June 14, 2019 iCal
Start: 10:00 AM
End: 8:00 PM
World Trade Center Oculus (map)
World Trade Center
New York, NY 10007

LIVE 4 LOV

E
The Best Way to Get There Is Together!  Cruise with NYC Ferry to view the "Live 4 Love" Art Installation"  in the Oculus at the World Trade Center. You can take any  NYC Ferry route to Wall St, Pier 11 including our NYC Ferry Pride Boat that is cruising our East River Route today! Cruise comfortably to your destination and use #FerryProud to tag us in your social media post and photos.
The symbolic "Live 4 Love" art installation in the Oculus celebrates WorldPride NYC and the 50thanniversary of Stonewall. Australian artists Maurice Goldberg and Matthew Aberline designed and created an installation that will be displayed in the Oculus from today through June 28 before it joins the NYC Pride March.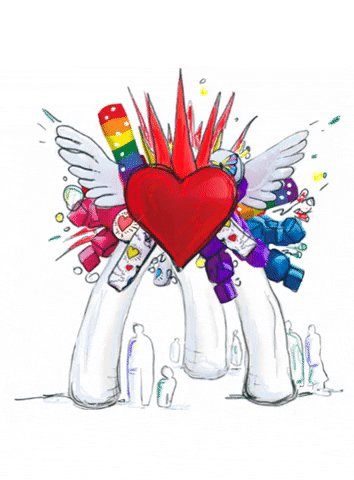 The large, colorful installation was created by two Australian artists to bring the story of the LGBTQIA+ community to life in a dynamic way.  "Live 4 Love" is an inflatable structure that stands over 20 feet tall and is covered with powerful design symbols that represent freedom, inclusion, gender diversity, friendship, and adversity. In the evenings, the installation will be illuminated with internal LED lights and act as a large-scale lantern.  Today, the installation came to life in the Oculus and will remain on public display until June 28. Segments of the installation will subsequently be showcased during New York City's Pride March on June 30.
Stay up to date with all things NYC Ferry, visit our Events Page
Follow us on Facebook and Twitter @NYCferry and Instagram @nyc_ferry
Download the NYC Ferry App to plan your trip today!