Deck the Stalls Holiday Market
NYCEDC Public Markets presents: Deck the Stalls- A TASTE OF ESSEX MARKET at the Seaport
Details Date: December 02, 2018 iCal
Start: 11:00 AM
End: 5:00 PM
The Seaport District (map)
19 Fulton Street
New York, NY 10038

Deck the Stalls: A TASTE OF ESSEX MARKET at the Seaport
NYCEDC Public Markets presents Deck the Stalls: A TASTE OF ESSEX MARKET at the Seaport, A multi-cultural market event, celebrating the best of the New York City's public markets in partnership with Fulton Stall Market's farmers and producers. In the Seaport District on Water Street between Fulton & Beekman Streets. Travel via NYC Ferry to Deck the Stalls Holiday Market. Take NYC Ferry's East River, Astoria, Soundview, Lower East Side (LES), Rockaway, South Brooklyn Route to Wall St, Pier/11.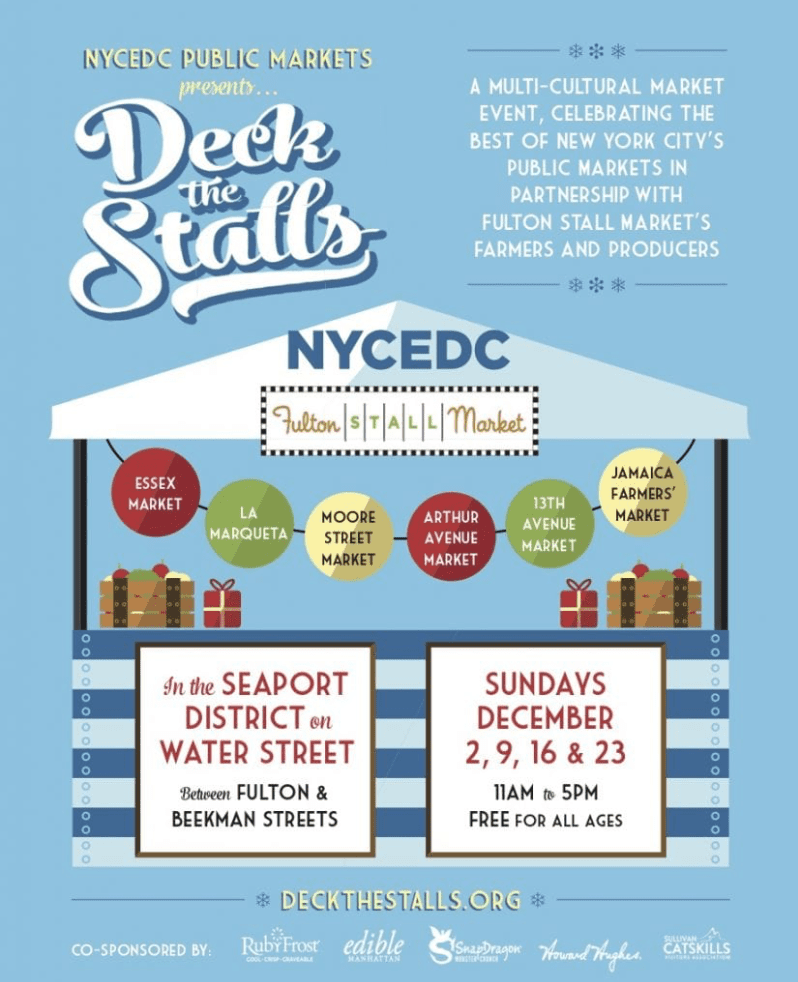 FREE for all ages! 11:00am – 5:00pm.
Market-goers can enjoy holiday gifts, locally made food, multi-cultural performances, Seaport tours, live music, wine, and craft beverages.
DECEMBER 2: A TASTE OF ESSEX MARKET at the Seaport
Meet Essex Market vendors old and new including Chinatown Ice Cream Factory, Don Ceviche, Essex Olives & Spice, Heroes & Villains, Mille Nonne, Pain D'Avignon, Saffron Brooklyn, Sugar Sweet Sunshine.
HBK Incubates vendors from La Marqueta will also be in attendance, including Amuse Bouche NYC, Cenkali Products, Fancy Pies, Penny's Pastries, Grace Kelli Cupcakes, Harlem Cakery, Harlem Munchies, Maryam's Yum Yum, Mr Cory's Cookies, Ms Macs Fruit Cakes, Sheesha Sweets, Tanya Tracy, Savannas Brownies On Edge, The Egg Roll Queen, The Harlem Pie Man, The KittyRose lifestyle, Y-Juice, Yulonda's Edible Sensations.
Stop by and visit local Fulton Stall Market regulars like 5 Island Spices, Amuse Pooch, Bennett's Deli, Berried Treasures Farm, Bon-Bio Tea, Breezy Hill Orchard, Bushwick Sauce, Crème and Cocoa, Dontrelle LaFleur, Grab Em Snacks, Hot Spoon Preserves, Kernalicious, Le Papillon Bakery, Limation, Lorna's Naturals, Om Champagne Tea, Paulista Avenue, Pepplish Products, Rogowski Farm, Soup 36, Spicegrove, Ullis Oils.
Click the map for more Directions:
The Seaport District
19 Fulton Street
New York, NY 10038
11:00 AM- 5:00 PM
You can also stop by the EscapeMaker.com booth for free info on local travel, weekend getaway and farm escapes in upstate New York. Producers include Hudson Valley Farmhouse Cider in the Hudson Valley, Buck Brook Alpacas, Rosehaven Alpacas, Mayer Wasner, Prohibition Distillery, and Catskill Provisions from the Sullivan Catskills and Sheldrake Point Winery from Ithaca & the Finger Lakes.
Co-sponsored by Edible Manhattan, Sullivan Catskills, RubyFrost, SnapDragon Apples, and the Howard Hughes Corporation.